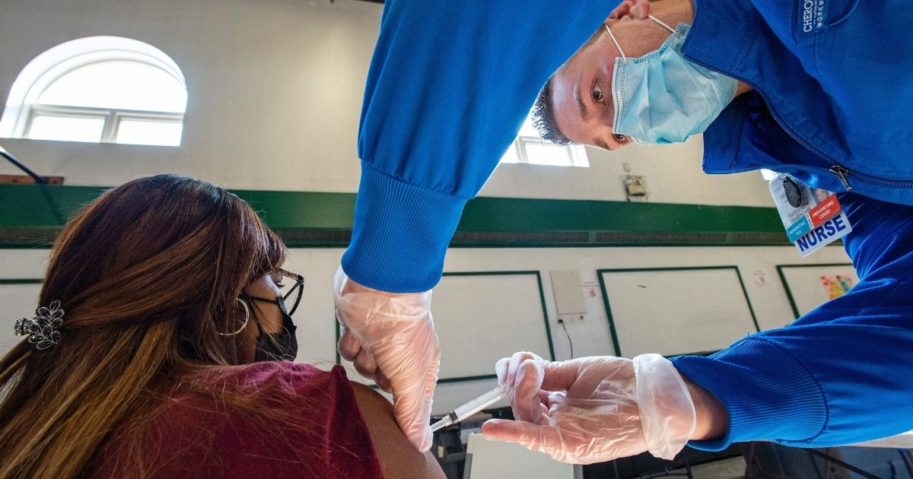 Despite Relentless Media Campaign, Americans' Fear of COVID Now Eclipsed by Threat on Our Border:
For a long time, Americans were hungry for doomsday coverage of the coronavirus pandemic, and establishment media outlets were happy to oblige.
The phenomenon led to "doomscrolling," which Dr. Ariane Ling, a psychologist and assistant professor at New York University's Langone Health, described as "the act of endlessly scrolling down one's news apps, Twitter and social media and reading bad news."
"In the efforts to make information accessible to all, many major news resources like [The New York Times] are offering coverage of COVID for free," Ling told Healthline in July. "This creates both less barriers to being informed, but it also adds to the abundance of doomsday headlines out there."
The crippling fear of COVID-19 fueled by media handwringing was reflected in public polling. --->READ MORE HERE
The Masks Are (Finally) Coming Off:
David Leonhardt writes the Morning newsletter for the New York Times. He used to host a Times podcast, The Argument, and listening to him there I decided he was the most useful person in journalism, because he is a perfect avatar of our leadership class.
I found listening to him think out loud utterly maddening in a way that listening to out-and-out left-wingers wasn't. He's soft-spoken. He's practical. He's liberal, but not a leftist. Fundamentally, he believes in markets and our Constitution, and his belief is reassured by how often these things work against Republicans. He thinks the media has a bias against Democrats, holding them to higher standards than Republicans. Sometimes leftist positions make him really uncomfortable, but if going against them in any sustained way would make him look like a conservative, well he just sort of . . . doesn't, because he doesn't think of himself as one of those gross people. He's sane and, if you hadn't noticed, he's going places.
"What would David Leonhardt say and do in public?" is now my barometer for how American institutions are likely to think and act. So when Leonhardt came out and said this week that maybe we can stop wearing masks outdoors, it seemed like evidence that our institutions might be beginning to talk about the science and confront the superstition that the most cautious, risk-averse approach is the one that aligns with the science. --->READ MORE HERE
Follow links below to related stories and resources:
Feds flooded with 130,000 requests to cover COVID-19 funeral expenses
Coronavirus deaths 'going in right direction,' CDC director says
USA TODAY: Coronavirus Updates
WSJ: Coronavirus Live Updates
YAHOO NEWS: Coronavirus Live Updates
NEW YORK POST: Coronavirus The Latest
If you like what you see, please "Like" us on Facebook either
here
or
here
. Please follow us on Twitter
here
.