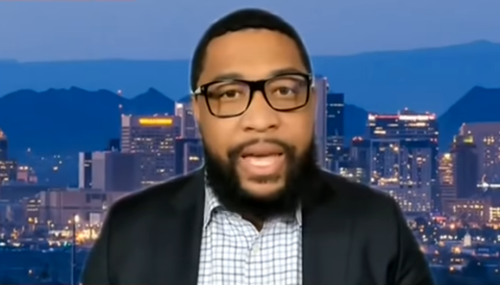 "Biden Is An Idiot" - Fmr Police Officer Blasts Democrats For "Riding The Wave Of Dead Black People":
Former Arizona police officer-turned conservative political commentator Brandon Tatum unloaded on President Biden and the press for politicizing the Derek Chauvin trial, and insists that so-called 'systemic racism' is simply manufactured by politicians and the media to earn votes and make money.
"I think we're living in the twilight zone," Tatum said of the Chauvin trial. "This conviction, in my personal opinion, did nothing for our country. People are living a lie. I mean this is one police officer, one person in the community, they found him guilty, this was the swiftest justice I've ever seen in my life. The day after the film came out he was arrested. He was tried. 10 hours of deliberation, he was convicted. I'm not really sure why people are acting like this is monumental.
"Also, he did not get a fair trial in my personal opinion. There was a lot of obstruction that happened. They paid the family out $27 million before the jury could be selected. I mean, they're going to have a case in appeal. I don't know why people are celebrating and I don't know why this is such a big focal point other than - people are making money off of the pain of people in our country."
The BBC host then asked Tatum if he was upset over this "landmark" case?
"This is not a landmark case, this is a political agenda," Tatum shot back. They're pushing laws in our country. Policing in America is not inherently racist. We don't live in a racist country. This was an interaction between a police officer that I thought did the wrong thing, and a black man who was on drugs high, resisting arrest, and ended up being killed by that police officer. That's as simple as it can be. The President of the United States got out and made a fool of himself trying to promote racism in a simple police encounter that the officer got convicted on. --->READ MORE HERE
'I Don't Believe This Country Is Systemically Racist': Kentucky AG Says Biden Comments 'Throw Fuel On The Fire':
Kentucky Attorney General Daniel Cameron said Sunday that he rejects the notion that America is "systemically racist" and reprimanded President Joe Biden for promoting that concept.
"Well, no, I don't believe this country is systemically racist," Cameron told Fox News' "Sunday Morning Futures." "What I believe is that this country has always tried from the very beginning to become a more perfect union. And certainly we've had our challenges throughout this nation's history and there's no hiding from that."
"But when you hear comments like you heard from President Biden and others that throw fuel on the fire that explode the tensions that we have in this country, that's not good for hoping to unify this country," Cameron continued, adding that he tries "to stay away from hyperbolic terms" and "reflect" his Christian faith when he makes comments. --->READ MORE HERE
If you like what you see, please "Like" us on Facebook either
here
or
here
. Please follow us on Twitter
here
.