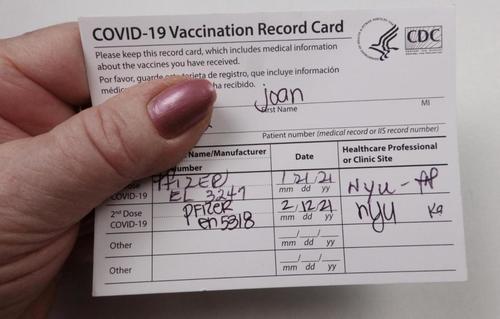 Americans' Vaccination Cards May Be Only Record Of COVID Immunity - So Keep Them Safe:
If you have a tendency to misplace your smartphone or wallet, beware: losing your COVID vaccine card could create serious headaches for people, since the physical cards are in many case the only record that an individual was vaccinated - meaning it might soon double as a de facto passport for anybody who wants to leave their home.
As Forbes pointed out in a piece published over the weekend, some destinations, cruise lines and major sports venues are already requiring travelers to provide proof that they have been fully vaccinated against the virus. And if you're among the ~48MM Americans who have been "fully vaccinated" (ie received either two doses of the Pfizer or Moderna jabs, or 1 dose of the JNJ jab, with at least two weeks passing since the final dose)
Anybody who loses their card is asked to return to the site where they were vaccinated, and ask for another one.
"If you do not receive a Covid-19 vaccination card at your appointment, contact the vaccination provider site where you got vaccinated or your state health department to find out how you can get a card," according to the CDC website. --->READ MORE HERE
Travel Is Low Risk for Fully Vaccinated People, CDC Says:
People who are fully vaccinated against the coronavirus can travel at low risk to themselves as long as they wear masks and take other precautions, the Centers for Disease Control and Prevention said Friday in a shift from its previous blanket discouragement against travel.
Individuals who are fully vaccinated — two weeks past their final shot — need not receive a COVID-19 test before or after domestic trips and do not need to self-quarantine after travel, the agency says.
The guidance adds that for international travel, testing is not necessary for fully vaccinated people ahead of trips unless required by the destination country. However, fully vaccinated individuals should get tested and receive a negative result before boarding an international return flight. --->READ MORE HERE
Follow links below to related stories and resources:
Vaccination Passports: The Cornerstone of a Totalitarian State
Hawaii Unveils COVID Passports For Inter-Island Travel
USA TODAY: Coronavirus Updates
WSJ: Coronavirus Live Updates
YAHOO NEWS: Coronavirus Live Updates
NEW YORK POST: Coronavirus The Latest
If you like what you see, please "Like" us on Facebook either
here
or
here
. Please follow us on Twitter
here
.