Trump still standing, still the greatest threat to The Swamp:
There are great personalities built on sand.
Just ask porn lawyer Michael Avenatti and New York Gov. Andrew Cuomo.
Avenatti, media experts assured us, would be our next president — before he went to jail for being a charlatan, a grifter and a thief.
Mr. Cuomo was the "love guv" who drove "Cuomo-sexuals" in the media wild over his steady statesmanship during the coronavirus pandemic. He wrote a book about leadership in crisis. He earned an Emmy award for his press conferences. He, too, would be our next president, they assured us.
Until, that is, he was exposed for issuing orders that killed thousands of elderly people in nursing homes and hid crucial information that might have saved thousands more at the height of the pandemic. Now he is looking at a federal investigation into his deadly coverup and even fellow Democrats are talking about impeaching him. --->READ MORE HERE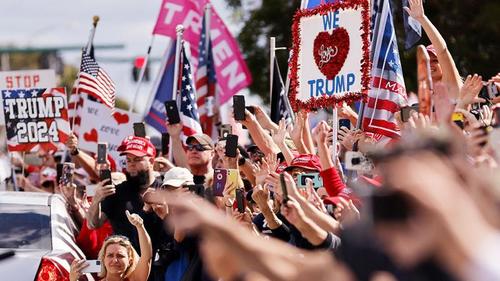 Democrat Voters' Number One "Concern" Is Trump Supporters, New Poll Finds:
A poll conducted by Echelon has found that while Republican voters are concerned with issues such as illegal immigration, lack of police resources, and high taxes, Democrat voters' top concerns are supporters of President Trump, racism, and discrimination against LGBTQ people.
While 81% of Republican voters cited immigration as the top issue, 82% of Democrats said that 'Trump's supporters' is their top issue at the moment.
Of the issues we presented to ALL respondents, the economic damage from COVID-19 is the top concern in large part because it is the most bipartisan - three-quarters of GOP and Dems are very/extremely concerned. pic.twitter.com/nhL8loHaw2

— Kristen Soltis Anderson (@KSoltisAnderson) February 24, 2021
--->READ MORE HERE
Follow links below to Trump related stories:
Trump's raucous CPAC reemergence casts long shadow over Biden
The Morning Briefing: The Trump Comeback Has Begun
Jim Banks: GOP Destined to Lose if They Erase Trump, Lose Connection with Working-Class Voters
Trump urges ouster of 'RINOs,' 'warmonger' Liz Cheney
Trump official Richard Grenell signals run to oust Calif. Gov. Gavin Newsom
Katrina Pierson to run for Texas congressional seat: Report
If you like what you see, please "Like" us on Facebook either
here
or
here
. Please follow us on Twitter
here
.