Five Far-Left Promises Joe Biden Has Kept in His First 50 Days:
President Joe Biden marked his 5oth day in office on March 10, thus keeping his promise of establishing a progressive body of government while repealing critical components of former President Donald Trump's "America First" agenda.
Biden started his presidency by going around Congress to unilaterally change policies through executive orders. On the first day of his presidency, Biden signed a stack of orders rolling back many of Trump's policy priorities.
1. Revoking the Keystone XL Pipeline
In May 2020, the Biden campaign released a statement saying he will "proudly stand in the Roosevelt Room again as President and stop it for good" when referring to the Keystone XL Pipeline.
A statement from his campaign says Joe Biden 'strongly opposed the Keystone pipeline in the last administration, stood alongside President Obama and Secretary Kerry to reject it in 2015, and will proudly stand in the Roosevelt Room again as President and stop it for good.' pic.twitter.com/8OakMVa3bF

— CBC News Alerts (@CBCAlerts) May 18, 2020
On Biden's first day of office, he revoked the permit for the Keystone XL Pipeline. Criticism has grown from industry stakeholders, GOP lawmakers, and unions. The job loss, some estimates project, will leave up to 70,000 Americans out of work.
"It's only day one, and with the stroke of a pen, Biden has already taken steps to kill American energy projects like the Keystone XL Pipeline which is critical to energy-producing states like Montana," Sen. Steve Daines (R-MT) said in a statement.
Trump had issued the presidential permit, which authorized work on the pipeline. The permit created thousands of U.S. jobs, directly and indirectly.
Mark McManus, general president of the United Association of Union Plumbers and Pipefitters, said the move to end the pipeline "is a slap in the face to the thousands of union workers who are already a part of this safe and sustainable project."
2. Ending Migration Controls --->READ MORE HERE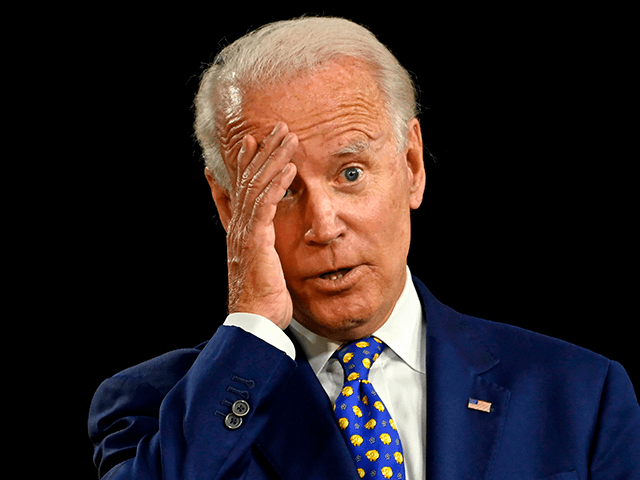 Andrew Caballero-Reynolds/AFP via Getty Images
7 Cringeworthy Moments from Joe Biden's First 50 Days in Office:
Today is President Joe Biden's fiftieth day in office. In commemoration of the mark, below is a list of seven cringeworthy moments since Biden's inauguration.
1. Biden claims, "minorities … don't know how to use, know how to get online"
"Minorities... don't know how to use, know how to get online."@JoeBiden is perpetuating a racist trope that minorities don't know how to use the internet.#BidenTownhall pic.twitter.com/hsVuC02PdC

— Steven Cheung (@CaliforniaPanda) February 17, 2021
2. Biden labels the desire not to wear a mask as "Neanderthal thinking"
"We are on the cusp of being able to fundamentally change the nature of this disease because of the way in which we're able to get vaccines in people's arms. … The last thing, the last thing we need is Neanderthal thinking, that, 'In the meantime, everything's fine. Take off your mask. Forget it.' It still matters," he said.
President Joe Biden on Wednesday said it's a "big mistake" for states to lift pandemic restrictions, calling it a result of "Neanderthal thinking." https://t.co/5MHl4BbLPx pic.twitter.com/fNBf5yKKtz

— USA TODAY Politics (@usatodayDC) March 4, 2021
--->READ MORE HERE
If you like what you see, please "Like" us on Facebook either
here
or
here
. Please follow us on Twitter
here
.