America is getting closer to normalcy — it's absurd to paint it any other way:
New US COVID-19 cases are a quarter what they were six weeks ago, with the daily numbers dropping 15 percent to 25 percent a week. It's time for the country to start moving rapidly to normalcy — restoring jobs and restoring lives. Caution is still in order, but only that.
Yet President Biden, after vowing the nation will have enough vaccine doses by July's end to vaccinate every American, just said he only hopes for a return to normal by "next Christmas." Huh?
"I don't want to overpromise anything here," "A year from now," he told CNN, "I think that there'll be significantly fewer people having to be socially distanced, having to wear a mask." That's not avoiding overpromising, as he claimed: It's outright telling everyone to expect yet another year of economic and social devastation.
Biden's chief medical adviser, Anthony Fauci, says the worst of the pandemic "might be" behind us. Yet he's also telling Americans they'll need to wear masks (maybe two at a time) at least through 2022 — even if they get vaccinated. --->READ MORE HERE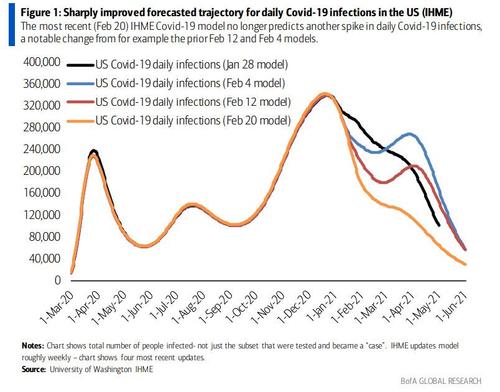 Even "Scientific Models" Now Forecast COVID Ending By June:
Amid a constant barrage of good news on the covid front which mysteriously started around the time Joe Biden was inaugurated, including a plunge in the number of people hospitalized with Covid-19 which has tumbled to 56,159, or 76,315, down 58% off the peak which occurred on January 5th...
.. coupled with a dramatic drop in the 7-day test positivity rate which has declined to 4.9% from the 13.6% peak on January 8th...
.... as daily vaccinations in the US averaged 1.45mn doses per day over the past week and reached a cumulative 64.2mn... --->READ MORE HERE
Follow links below to related stories and resources:
These 7 States Are On The Verge Of Herd Immunity
J&J's Covid-19 Vaccine: How Does the One-Dose Shot Compare With Others? What You Need to Know
USA TODAY: Coronavirus Updates
WSJ: Coronavirus Live Updates
YAHOO NEWS: Coronavirus Live Updates
NEW YORK POST: Coronavirus The Latest
If you like what you see, please "Like" us on Facebook either
here
or
here
. Please follow us on Twitter
here
.