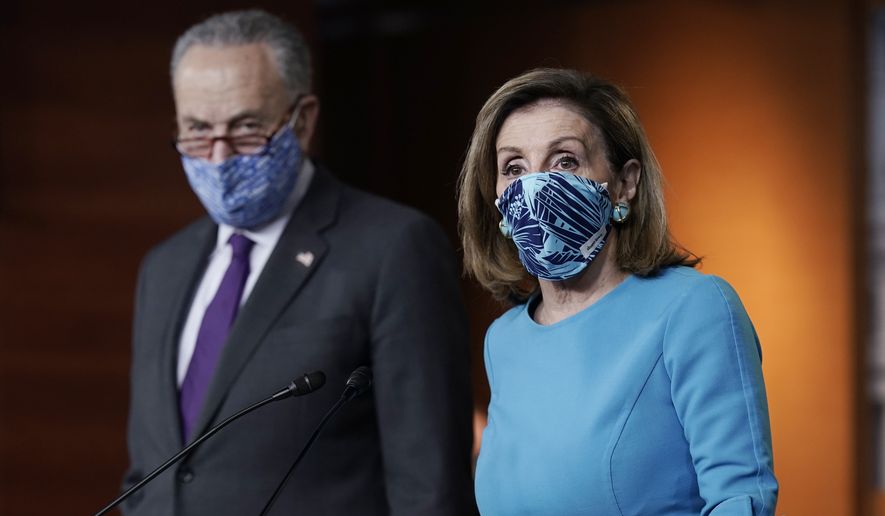 AP Photo/J. Scott Applewhite
'Absolute power grab': Dems' election overhaul extends far beyond ballot box:
Democrats are championing their massive election overhaul as a voting rights bill, but their proposal reaches far beyond the ballot box, with dictates on how candidates may run for office and rules restricting how states could challenge the sweeping new laws in court.
At least six sections in the more than 800-page bill potentially run afoul of the Constitution, according to legal scholars, including the requirement that states offer automatic and same-day voter registration, rules on the expansion of mail-in voting and provisions for the creation of new commissions charged with redrawing congressional districts. The bill also calls for an ethics code for the Supreme Court and mandates that presidential candidates disclose their tax returns.
The bill, which is titled the For The People Act, takes the unusual step of mandating a singular process for challenging the proposed new laws.
The bill would require that legal challenges be filed in federal court in Washington, preventing states such as Texas, Georgia and North Carolina from contesting various aspects of the legislation at home where the judges tend to be more conservative. --->READ MORE HERE
8 Ways That HR 1, 'For the People Act,' Imperils Free and Fair Elections:
HR 1, the deceptively titled "For the People Act," has arrived in the U.S. Senate after a party-line vote in the House of Representatives. It is without doubt the most dangerous and irresponsible election bill I have ever seen.
If it becomes law, it will interfere with the ability of states and their residents to determine the qualifications and eligibility of voters, to ensure the accuracy and validity of voter registration rolls, to secure the integrity of elections, and to participate and speak freely in the political arena.
HR 1 is an 800-page monstrosity that would usurp the role of the states. It would not only eliminate basic safety protocols, but mandate new, reckless rules and procedures.
Here are the eight worst provisions of this ill-considered bill:
1) It would eviscerate state voter ID laws that require a voter to authenticate his or her identity. Indeed, it would force states to allow anyone to vote who simply signs a form saying that they are who they claim they are.
When combined with the mandate that states implement same-day voter registration, it means I could walk into any polling place on Election Day, register under the name John Smith, sign a form claiming I really am John Smith, cast a ballot, and walk out.
Not only would election officials have no way of preventing that or verifying that I am not really John Smith, I could repeat this at as many polling places as I can get to.
2) --->READ MORE HERE
Follow links below to related stories
Passing H.R. 1, the 'Crooked Politician's Act'
Democrats push H.R. 1 to manipulate and steal future elections
Ted Cruz Labels Democrats' HR1 the 'Corrupt Politicians Act'
Congress puts stripping critical citizen protections in its crosshairs with H.R. 1
If you like what you see, please "Like" us on Facebook either
here
or
here
. Please follow us on Twitter
here
.