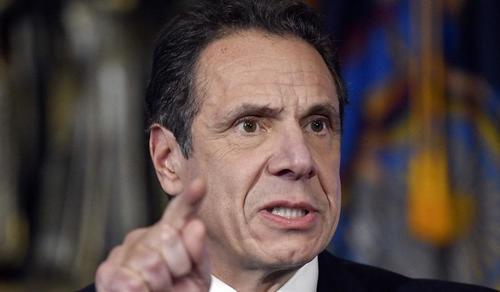 'Watch Your Back': Cuomo Accused Of "Gangster" Threats Against "Flood" Of People:
A flood of politicians and other public figures have come forward to accuse New York Governor Andrew Cuomo (D) of gangster-like behavior, including multiple threats ranging from 'watch your back' to 'bullying, mistreatment and intimidation,' according to Forbes.
Key allegations via Forbes:
> Nate McMurray, a two-time House candidate in Western New York, told Forbes that after criticizing Cuomo for plans to attend a Buffalo Bills game, he received a call from a Cuomo aide on New Years Eve that began "you motherf***er," before devolving into threats like "you're done in politics."

> McMurray said he took down his tweet after the call because he was "scared" and looking for a job after his run, adding that he's heard from people in both Cuomo's staff and the New York legislature about a "pervasive culture of fear that has trickled down from his office."

> "We've all been yelled at by someone in that administration," Marc Molinaro, a Republican county executive in upstate New York who ran against Cuomo in 2018, told Forbes, adding, "It's unacceptable but how they operate." --->READ LOTS MORE HERE
Government memo crushes Cuomo's defense in COVID nursing home scandal:
Gov. Cuomo has repeatedly defended his administration's directive for nursing homes to accept COVID-19 patients as the product of federal "guidance" — even though one of those government documents says only that infected seniors "can" be admitted to the facilities.
In contrast, the Health Department's since-rescinded, March 25 memo left little wiggle room to prevent "medically stable" patients from being transferred out of hospitals to nursing homes.
"During this global health emergency, all NHs must comply with the expedited receipt of residents returning from hospitals to NHs," the state directive said.
And if there was any doubt about what that meant, the following sentence was underlined: "No resident shall be denied re-admission or admission to the NH solely based on a confirmed or suspected diagnosis of COVID-19." --->READ MORE HERE
Follow links below to related stories and resources:
Cuomo's Laughable 'Extortion' Rant
Democratic assemblyman says Andrew Cuomo threatened to 'destroy' him over COVID-19 nursing home scandal
USA TODAY: Coronavirus Updates
WSJ: Coronavirus Live Updates
YAHOO NEWS: Coronavirus Live Updates
NEW YORK POST: Coronavirus The Latest
If you like what you see, please "Like" us on Facebook either
here
or
here
. Please follow us on Twitter
here
.