Report: If Biden's Climate Czar Is So Worried About Fossil Fuels, Shouldn't He Ditch This Private Jet?
If global climate change is really the existential threat environmental extremists claim it is, you'd never know it by the way they live.
John Kerry, President Joe Biden's special presidential envoy for climate and chief harbinger of environmental doom, has no problem imposing drastic measures like killing thousands of jobs and rolling back America's energy independence to save the world from cataclysmic disaster.
However, when it comes to his own family, the failed presidential candidate and former secretary of state doesn't seem to be scaling back the massive carbon footprint left by a luxurious jet-setting lifestyle.
According to Fox News, the Federal Aviation Administration's registry shows the climate czar's family still owns a Gulfstream Aerospace jet through the Flying Squirrel LLC company. The private charter jet company is owned by his ketchup-heiress wife, Teresa Heinz-Kerry, and is apparently held under the Heinz Family Foundation. --->READ MORE HERE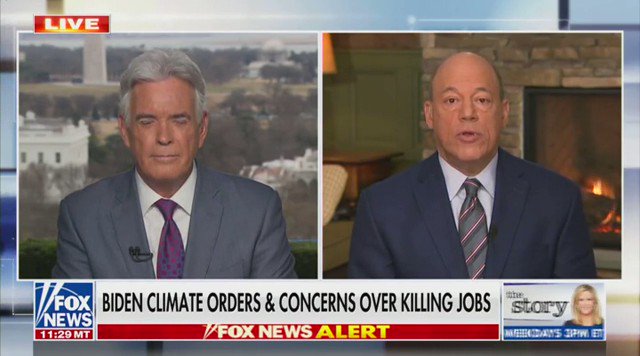 Ari Fleischer accuses John Kerry of climate change hypocrisy: Opposed a wind project 'because he didn't want to see the view outside his window':
Former White House press secretary Ari Fleischer accused former Secretary of State John Kerry of climate change hypocrisy after Kerry spoke about the Biden administration's green energy policy plans.
"Remember, he is the man who opposed a wind project on the Nantucket Sound because he didn't want to see the view outside his window," Fleischer said on Fox News, following Kerry's appearance at a White House briefing on climate change on Wednesday.
Kerry told reporters that the Biden administration will attempt to implement green energy policy changes that a president won't be able to undo in the future. --->READ MORE HERE
Follow links below to related stories:
John Kerry Will Fight Global Warming From His Own Private Jet
"Let Them Make Solar Panels" is the New "Learn to Code"
If you like what you see, please "Like" us on Facebook either
here
or
here
. Please follow us on Twitter
here
.