Biden thwarts the law with border wall halt: House GOP:
Republicans on the House Oversight Committee demanded an explanation Thursday from the new Homeland Security secretary about President Biden's order to stop border wall construction, saying it "thwarts the will of Congress," which just approved nearly $1.4 billion in new money for the project.
Led by Rep. James Comer, the ranking Republican on the panel, the GOP lawmakers also wondered in their letter why Mr. Biden's views had changed from 2006, when he enthusiastically backed construction of 700 miles of double-tier border fence — far more than has been built under Mr. Trump.
At the time, Mr. Biden said walls could prevent "tons" of drugs from being smuggled in.
The Republicans asked new Homeland Security Secretary Alejandro Mayorkas to turn over all documents related to Mr. Biden's new construction halt, and asked for the department's plans to keep the border secure in areas where wall-building is now on track to be canceled. --->READ MORE HERE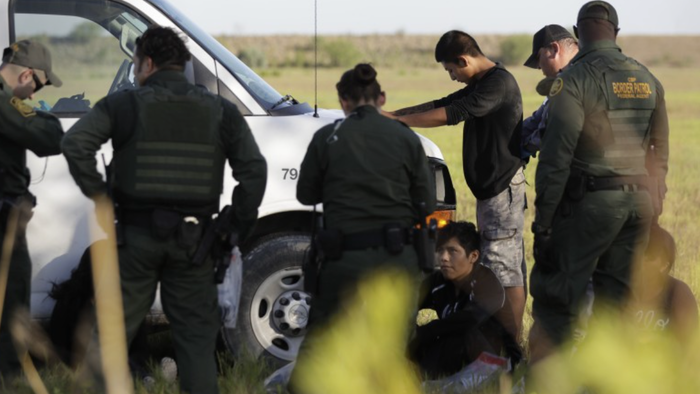 US Border Agents Nab Group Of Iranians:
U.S. Customs and Border Protection (CBP) agents arrested a group of Iranians who illegally crossed into the US Monday evening.
CBP said five women and six men were nabbed near San Luis, Arizona, on a bridge near County 21st Street and the Salinity Canal. Agents detained the group shortly after illegally crossing the Mexico–U.S. border.
There was no mention in the CBP press release if any group member belonged to terrorist organizations. The group is in processing with CBP while their fate is yet to be determined.
The illegal crossing comes shortly after the Biden administration reversed significant border protections by former President Trump. --->READ MORE HERE
Follow links below to related stories:
WATCH: USBP Surveillance Drone Spots 40 Migrants Crossing Border into Texas
Report: Massive Group of Haitian Migrants Illegally Cross Border in Texas
Migrant Camps at Border Growing. So Does Hope For Biden Amnesty
Border Patrol Releases More Migrants Into U.S. After Mexico Stops Taking Some Back
If you like what you see, please "Like" us on Facebook either
here
or
here
. Please follow us on Twitter
here
.