Evidence of planned attack on Capitol undercuts Dems' incitement claim:
The Democratic impeachment claim that President Trump spurred the attack on the U.S. Capitol by whipping his supporters into a violent mob is coming under scrutiny as evidence mounts that the siege was not spontaneous but planned well in advance.
The release of initial court documents show that at least two suspects arrived on or before Jan. 6 armed with explosives, tactical gear and caches of weapons. Facebook has come under fire for failing to remove "Stop the Steal" pages allegedly used by organizers weeks and even months ahead of the rally.
Also emerging are media reports that investigators believe the assault was coordinated and "not just a protest that spiraled out of control," as CNN reported Thursday, and that the FBI knew beforehand of plans for a "war" at the Capitol, as per The Washington Post.
Donald Trump Jr. connected the dots Thursday after flagging an interview with Just the News editor John Solomon, who said the FBI, the New York Police Department and the U.S. Capitol Police had intelligence about the possibility of an organized siege.
"If these federal law enforcement agencies had prior knowledge that this was a planned attack then POTUS didn't incite anything," the president's son tweeted. "If he didn't incite anything then Nancy Pelosi and the Dems used impeachment on yet another sham political witch-hunt."
The indications that the rioting was planned appear to run counter to House Democrats' argument that Mr. Trump's speech "foreseeably resulted in" the rioting, which saw thousands invade the Capitol building in a melee that led to five deaths. --->READ MORE HERE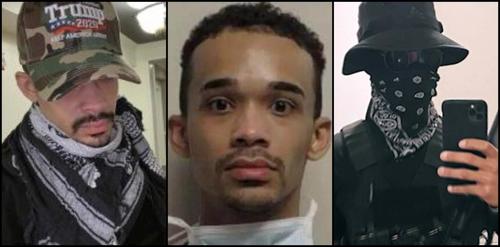 Rush To Judgment On Trump? Multiple Leftists Arrested For Capitol Riot:
When the Capitol riots happened on Jan. 6, the blame of President Trump was all over.
Supposedly, he was the instigator. Supposedly, he'd egged the rioters on. The tape of his urging his supporters to stay strong and fight was Exhibit A in the press, and with no skepticism whatsoever, House Speaker Nancy Pelosi declared Trump guilty and rushed a crazily hasty second impeachment just days before Trump's exit. She declared it was all about holding Trump "accountable" and she added, that her explicit aim at the uselessly late date was to prevent him from ever running from public office again.
Never mind what the voters might want. In more ways than one, in Pelosi's addled mind, their votes don't count.
The press also rushed to judgment, even the Wall Street Journal's editorial writers, claiming that Trump's political capital and credibility was now gone and he'd never run for president again.
But as news of the arrests comes out, showing who these branded Trump so-called supporters are, the conventional argument is starting to splinter apart.
The arrests made in the riots case are starting to show the kind of people who like to riot, which is to say extreme leftists.
Start with this freak, as reported by Fox News --->READ MORE HERE
Follow link \below to a related story:
Far-Left Agitator John Sullivan Posed As A Cameraman At Capitol Riot To Stir Up Violence: 'Let's Burn This Sh-t Down'
If you like what you see, please "Like" us on Facebook either
here
or
here
. Please follow us on Twitter
here
.