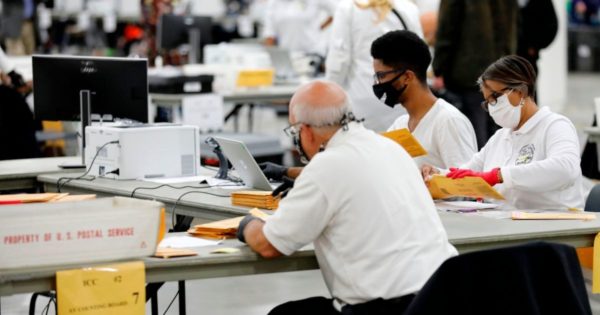 Democrats Introduce Bill to Permanently Change the Voting System Nationwide:
Congressional Democrats have unveiled a bill that would dramatically alter the political landscape in America.
The bill proposed by a pair of Oregon Democrats, Sen. Ron Wyden and Rep. Earl Blumenauer, would require that the ability to vote by mail be expanded to every voter in America in federal elections, according to a news release on Wyden's site, which said the legislation aims "to massively expand vote-at-home ballot access, provide voters with pre-paid ballot envelopes and enact automatic voter registration."
"Our democracy is stronger when every American can vote, without standing in ridiculous lines or having to take time off work or school to exercise their Constitutional rights," Wyden said in a statement.
"To get the big things done that really improve Americans' lives, our country needs the government to represent all Americans. Oregonians know that voting at home is a time-tested, secure and accessible way to vote. It's high time the rest of the country had the chance to vote the way we do." --->READ MORE HERE
Democrat Lawmakers Introduce Bill for Nationwide Mail-in Voting: Necessary to 'Make Real Progress':
Two Democrat lawmakers introduced a bill on Thursday, dubbed the "Vote at Home Act," to expand "Oregon-style" mail-in voting nationwide, contending that the move is necessary to "make real progress" in the country.
The bill, introduced by Sen. Ron Wyden (D-OR) and Rep. Earl Blumenauer (D-OR), is designed to "fight voter suppression" as detailed by Wyden's press release. The measure would "massively expand vote-at-home ballot access, provide voters with pre-paid ballot envelopes and enact automatic voter registration."
The lawmakers point to the unprecedented number of Americans who voted by mail in the 2020 presidential election — a move Democrats vehemently pushed. While progressives largely used the coronavirus pandemic as justification for opening the doors for mass mail-in voting, which many critics warn leads to mass fraud, universal vote-by-mail has existed as a primary goal for the Democrat Party, even prior to the pandemic. The measure introduced on Thursday essentially updates the vote-by-mail measure the two lawmakers introduced in 2017, long before the Wuhan virus struck.
Abrupt changes in state election laws, coupled with existing concerns of fraud and irregularities, led to a heated post-election battle, which essentially ended January 6 after Congress certified the electoral votes despite challenges from GOP lawmakers and ongoing concerns from millions of Americans who continue to question the integrity of the election. --->READ MORE HERE
If you like what you see, please "Like" us on Facebook either
here
or
here
. Please follow us on Twitter
here
.