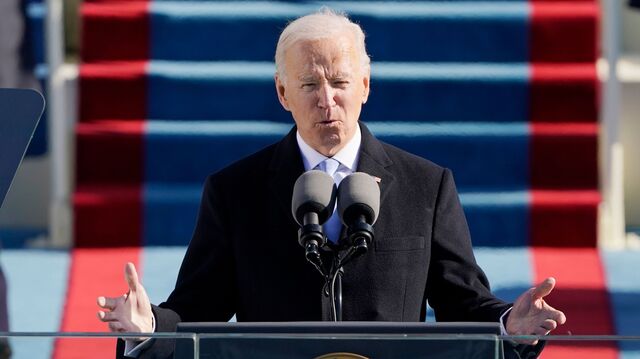 'Dark Money' Helped Pave Joe Biden's Path to the White House:
President Joe Biden benefited from a record-breaking amount of donations from anonymous donors to outside groups backing him, meaning the public will never have a full accounting of who helped him win the White House.
Biden's winning campaign was backed by $145 million in so-called dark money donations, a type of fundraising Democrats have decried for years. Those fundraising streams augmented Biden's $1.5 billion haul, in itself a record for a challenger to an incumbent president.
That amount of dark money dwarfs the $28.4 million spent on behalf of his rival, former President Donald Trump. And it tops the previous record of $113 million in anonymous donations backing Republican presidential nominee Mitt Romney in 2012.
Democrats have said they want to ban dark money as uniquely corrupting, since it allows supporters to quietly back a candidate without scrutiny. Yet in their effort to defeat Trump in 2020, they embraced it. --->READ MORE HERE
Biden reeled in more 'dark money' than any other candidate in history, majorly outpaced Trump donations: report:
President Joe Biden received a record-breaking amount of "dark money" from anonymous contributors that helped propel him into the White House. A Bloomberg report found that the Biden campaign accepted more dark money than any other presidential candidate in American history.
During the 2020 presidential campaign, Biden reportedly reeled in a record-breaking $145 million, topping the previous record of $113 million that Sen. Mitt Romney (R-Utah) received in his failed 2012 presidential bid against Barack Obama.
Former President Donald Trump's dark money donations majorly dwarfed Biden's, and he purportedly only received $28.4 million from anonymous donors.
A report from CNN in late November stated, "More than $320 million of so-called 'dark money' helped boost Democrats in the White House and congressional races -- more than double the anonymous dollars that aided Republicans in this year's federal elections, a new analysis shows." --->READ MORE HERE
If you like what you see, please "Like" us on Facebook either
here
or
here
. Please follow us on Twitter
here
.