Abortion Leading Global Cause of Death in 2020 with 42.7 Million Killed:
bortion was once again the number-one cause of death globally in 2020, with a record 42.7 million unborn babies killed in the womb, according to data provided by Worldometer.
As of December 31, 2020, there were 42.7 million abortions performed in the course of the year, Worldometer revealed, while 8.2 million people died from cancer, 5 million from smoking, and 1.7 million of HIV/AIDS.
By comparison, worldwide deaths from the coronavirus in 2020 totaled 1.8 million, according to Johns Hopkins University.
Worldometer — voted one of the best free reference websites by the American Library Association (ALA) — keeps a running tally through the year of major world statistics, including population, births, deaths, automobiles produced, books published, and CO2 emissions.
It also registers the total number of abortions performed worldwide, based on the latest statistics on abortions published by the World Health Organization (WHO). --->READ MORE HERE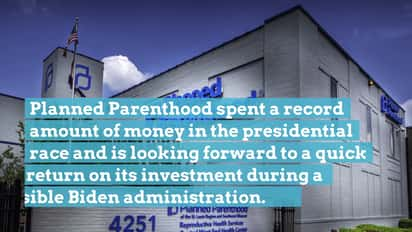 Planned Parenthood Expects 'Day 1' Executive Order from Biden After Spending Big Bucks on His Campaign:
Planned Parenthood spent a record amount of money in the presidential race and is looking forward to a quick return on its investment during a possible Biden administration.
The organization spent $45 million to help presumptive President-elect Joe Biden win the election, $10 million of which was spent in key battleground states, Newsweek reported.
Planned Parenthood is currently working with the Biden-Harris transition team to help them get "ready to hit the ground running day one."
"The first thing we would like to see would be an executive order on day one, within the first 100 days, that demonstrates the administration's commitment to sexual and reproductive health care," Planned Parenthood President Alexis McGill Johnson said. --->READ MORE HERE
Follow links below to related stories:
True Colors: Planned Parenthood Calls Abortion 'Critically Important' Despite Previously Downplaying It
Joe Biden should be barred from receiving communion over abortion: bishop
AOC Complains About Abortion Law, NFL Star Steps In and Shuts Her Down with Lesson About 'Simple Biology'
If you like what you see, please "Like" us on Facebook either
here
or
here
. Please follow us on Twitter
here
.