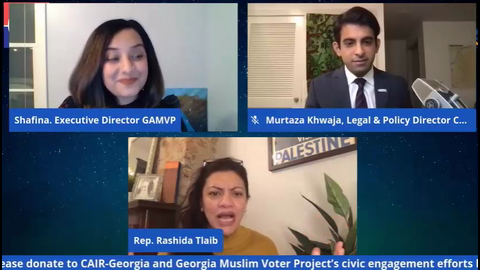 Tlaib: 'Allah has given' Muslims opportunity to 'show' their 'power' in Georgia Senate runoff:
Democratic Michigan Rep. Rashida Tlaib said over the weekend that Allah has given Muslim voters an opportunity to show their "power" in the upcoming Georgia Senate runoffs.
"I hope that you realize just the opportunity here that Allah has given us to show the power of Muslims in Georgia," Tlaib, one of the first two Muslim women to serve in Congress, along with Minnesota Rep. Ilhan Omar, said during an online "vote-a-thon." "I want people to be like, oh my God, I didn't even know Muslims are in Georgia. … Exactly! Because we're going to show them in droves of numbers."
"I want to, mashallah [what Allah has willed] be able to say, 'Look at the voting in these precincts and guess what? It was the Muslim vote that delivered Georgia," Tlaib added in the event co-hosted by the Georgia chapter of the Council on American-Islamic Relations and the Georgia Muslim Voter Project, according to CNS News. --->READ MORE HERE
Early voting in Georgia runoffs outpaces general election totals on Day 1:
Nearly half a million ballots were cast Monday in the first day for early voting in Georgia's two runoffs for Senate, more than on the first day of early voting in the general election, said state officials.
All told, 482,250 votes were recorded on Monday, according to the Georgia secretary of state. The total dwarfs the roughly 128,000 votes cast in the Peach State on the first day of voting for the Nov. 3 general election.
The first day total includes those who voted in person (roughly 168,000) and those who sent in absentee ballots (roughly 314,000).
Both Georgia Senate seats are up for grabs in the Jan. 5 runoffs. Republicans must win one of them to retain their slim majority in the upper chamber.
With so much at stake, the races have attracted hundreds of millions in spending already, according to independent audits. --->READ MORE HERE
Follow links below to related stories:
+++CAIR Holding Georgia Senate Runoff Vote-a-Thon Featuring Ilhan Omar, Rashida Tlaib, Linda Sarsour+++
Linda Sarsour, Rashida Tlaib Join CAIR Effort to Get Georgia Muslims to the Polls
Warnock Praised Racist and Anti-Semitic Nation of Islam
If you like what you see, please "Like" us on Facebook either
here
or
here
. Please follow us on Twitter
here
.