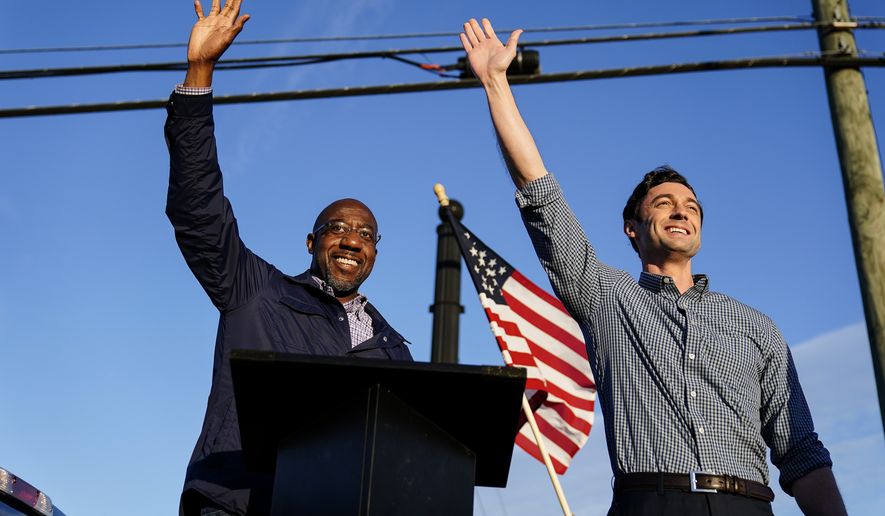 AP Photo/Brynn Anderson, File
If Democrats win Georgia's two Senate seats, the American Dream could come to an abrupt end:
It seems like every two years, you hear that this election is the most important election of our lifetimes, but this time it's not a stretch to say that.
If the Democrats win Georgia's two Senate seats on Jan. 5, the American Dream — one that's fostered unrivaled prosperity through democracy and freedom over the last 244 years — could come to an abrupt end.
If you don't know much about them, Raphael Warnock and Jon Ossoff are more than just far-left Democrats. Of course, they want to raise our taxes, enact the Green New Deal and socialize medicine. Like their cohorts, they support open borders, taking away our Second Amendment rights and legalizing late-term abortion, sending your tax dollars to fund abortions.
But Mr. Warnock and Mr. Ossoff are in a league of their own. They are backed by radical defund the police groups. They would vote to pack the U.S. Supreme Court. They would make Washington, D.C. a state and do away with the Electoral College — effectively silencing rural America. They have espoused the merits of socialism — and want to lock down our small businesses, churches and schools.
Most importantly, national Democrats see Mr. Warnock and Mr. Ossoff as the linchpins to the socialist transformation of American society — because, if they win on Jan. 5, they will give Democrats a majority in Congress and a green light to begin putting their radical agenda into law. --->READ MORE HERE
Progressives Pour Millions into Electing Democrats Jon Ossoff, Raphael Warnock:
Progressives leaders and groups such as Rep. Alexandria Ocasio-Cortez (D-NY), Sen. Bernie Sanders (I-VT), and the Working Families Party have poured millions into the Georgia Senate runoffs, believing that the advancement of their leftist agenda hinges on the election of Democrats Raphael Warnock and Jon Ossoff.
Politico reported Saturday that progressives have declared a cease-fire with more moderate Democrats to focus on taking the Senate majority.
"If Democrats don't take back control of the Senate, much of the progressive agenda is doomed," Politico wrote.
Subsequently, progressives have raised millions of dollars to elect Warnock and Ossoff.
Ocasio-Cortez's team announced that they had raised $600,000 for outside leftist groups. The Working Families Party, which advocates for defunding America's law enforcement, plans to spend more than $1 million on efforts to elect Warnock and Ossoff. Sanders has raised $400,000 for the Georgia Senate race.
Jeff Weaver, a longtime adviser for Sanders, said, "Bernie Sanders wants there to be a Democratic Senate. If we're going to see any progress on [former Vice President] Joe Biden's pro-worker economic proposals, we need to have a Democratic Senate."
The Black Lives Matter PAC had also pledged to raise half a million dollars to boost Ossoff and Warnock. --->READ MORE HERE
Follow links below to related stories:
Early in-person voting starts in Georgia
Georgia runoffs' high stakes spark big push for voter turnout
CAIR Holding Georgia Senate Runoff Vote-a-Thon Featuring Ilhan Omar, Rashida Tlaib, Linda Sarsour
Exclusive: Georgia Sens. David Perdue, Kelly Loeffler Vow 'Never' to Support Amnesty for Illegal Aliens
Ossoff's heart is in San Francisco
Warnock's troubled summer camp, arrest for interfering in child abuse probe surface
If you like what you see, please "Like" us on Facebook either
here
or
here
. Please follow us on Twitter
here
.