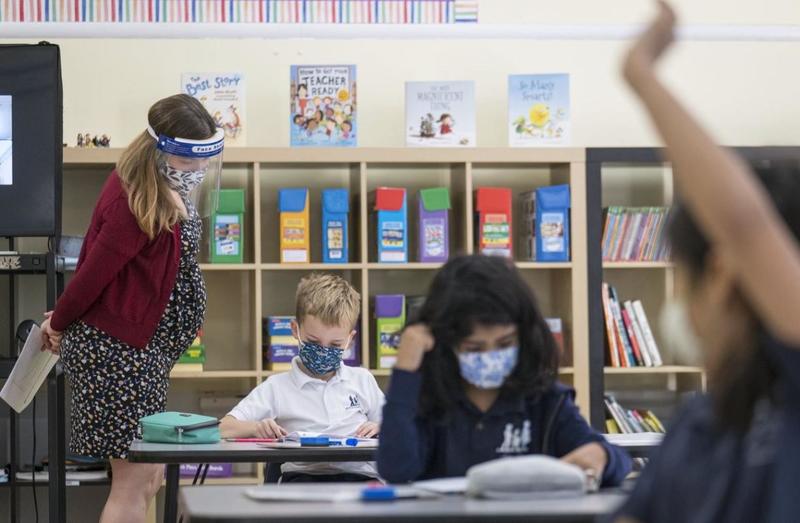 Another COVID-19 'Myth' Busted: Schools Aren't Driving Infection Rates, Study Finds:
The return to schools in the US was memorably fraught with doomsayers like Dr. Fauci who at times allied with unions (particularly in America's biggest districts like in LA, Chicago and New York) to force mayors to agree to lengthy delays of in-person education unless they acquiesced to measures on staffing and resources intended to ensure "teacher safety".
Months later, the controversy that surrounded President Trump's attempt to force schools around the country to reopen, something that the media raised a major stink about (accusing the president of endangering the nation's children for the sake of something as trivial as "the economy") has all but faded.
A surfeit of testing in the US and across Europe that was carefully monitored and studied by researchers has been carried out. And as Bloomberg reports, positivity rates in places like NYC were "extremely low" - less than 0.2%.
Though we never saw the surge in cases that some feared reopening schools might trigger, infection rates in schools have more or less tracked the rates from their surrounding community. --->READ MORE HERE
Details from the U.K. prove that lockdowns, like COVID-19, are killers too:
One of the many issues that separated the two presidential candidates is how they would handle the coronavirus pandemic from now on. Donald Trump is against a return to lockdown, whereas Joe Biden has left that door open. He has said: "I would shut it down; I would listen to the scientists,"
But details have recently emerged in the U.K. that prove lockdowns are killers, too, and will continue to be for a long time after they are lifted.
The U.K. Office for National Statistics (ONS) has reported that over 25,000 more people died in their homes in the first nine months of this year than in the five year average for that period — and only 9% of those fatalities were due to coronavirus.
This was ascribed to people's fear of catching the disease if they went to hospital, not wanting to be a burden during a difficult time or, in some cases, being turned away by the hospitals themselves. --->READ MORE HERE
Follow links belolw to related stories and resources:
Dogs can detect COVID-19 quicker and more accurately than nasal swabs, study finds
New COVID-19 test can deliver accurate results in 30 minutes
USA TODAY: Coronavirus Updates
WSJ: Coronavirus Live Updates
YAHOO NEWS: Coronavirus Live Updates
NEW YORK POST: Coronavirus The Latest
If you like what you see, please "Like" us on Facebook either
here
or
here
. Please follow us on Twitter
here
.