Horowitz: NYT is 'surprised' by obvious lack of viral spread in schools that opened:
Surprise!
In March, schools in nearly every state did the unthinkable: They shut their doors for months, thereby destroying the social lives and education of a generation of children — all for a virus that poses no statistical threat to them. Now, weeks (and in some places, even months) after certain schools have reopened, the entire fear of kids as super-spreaders turned out to be a fabrication. While some of us knew this from day one and could have saved a generation of children months of despair, the New York Times finds it "surprising."
On Monday, the NYT reported that despite fears that New York's 1,800 public schools would serve as death traps, "nearly three weeks into the in-person school year, early data from the city's first effort at targeted testing has shown the opposite: a surprisingly small number of positive cases." The city received the results of 16,298 random tests throughout the public schools and found just 20 staff members who tested positive. How many students? Just eight — in all of New York City! And there's no evidence of serious illness among them.
It's not as if the virus is not spreading in the community. The schools reopened just as a resurgence of the virus became apparent in Brooklyn and Queens, yet there were just four positives out of over 3,300 tests in those two boroughs.
Rather than focusing on balancing nursing home safety and family visitation through mass testing, Gov. Cuomo is wasting testing resources by randomly testing 10%-20% of the public school's population every month, all for a virus that clearly does not spread much among children and certainly does not pose a greater risk to them than the typical pathogens they pick up every year in school. --->READ MORE HERE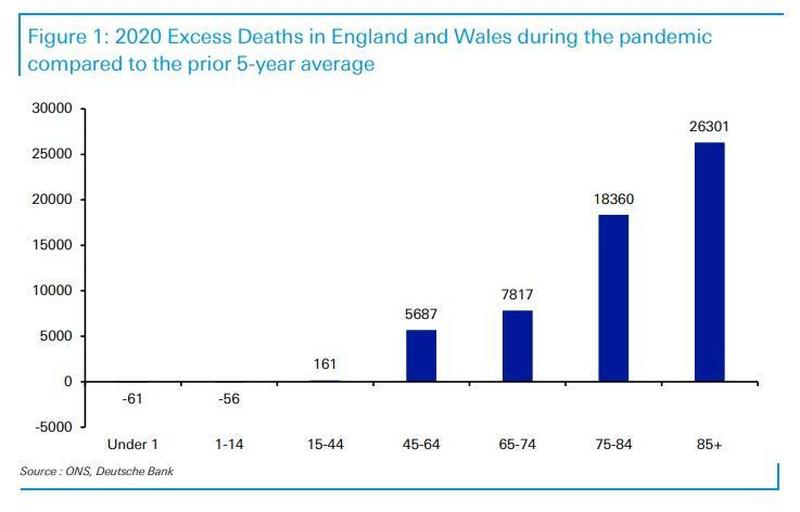 Does America Have A COVID Problem Or An Obesity Problem?
While we have previously reported - and by now it is common knowledge - that Covid-19 usually kills only the very old with virtually no deaths in the 45 and under category and most deaths in the 75 and over category.
Indeed, as Deutsche Bank's Jim Reid noted when discussing the average age of fatalities from Covid, "it is remarkably consistent around the 80-82 year old mark."
Then overnight, Bloomberg's John Authers pointed out how startling this mortality rate varies from country to country, when referencing another chart from Jim Reid:
As Authers writes, "The U.S. is a remarkable outlier. How can that possibly be?"
According to Reid, a small part of this might be down to many of the other countries having an older population. For example, Italy's median age is 45 (43 in Europe), whereas it is 38 for the US. --->READ MORE HERE
Janice Dean Leads An Army Of New Yorkers Who Want Cuomo Held Accountable For Deadly COVID Decisions
USA TODAY: Coronavirus Updates
WSJ: Coronavirus Live Updates
YAHOO NEWS: Coronavirus Live Updates
NEW YORK POST: Coronavirus The Latest
If you like what you see, please "Like" us on Facebook either
here
or
here
. Please follow us on Twitter
here
.