Judge Barrett should be tested, quarantined, Senate Democratic leader Schumer suggests:
Senate Minority Leader Charles E. Schumer said Friday he wishes President Trump and First Lady Melania Trump a quick recovery after they tested positive for COVID-19, but then the New York Democrat quickly called for contact tracing to be done, including for the president's Supreme Court nominee.
Mr. Schumer said according to the guidelines put forth by the Center for Disease Control and Prevention, the White House must conduct contact tracing to test and isolate anyone that had contact with those infected, which includes top White House aid Hope Hicks.
"This must include strict adherence to those guidelines for all of the White House staff members that the President, First Lady, and the aide came into contact with; and all of the people those individuals came into contact with whom experts deem at risk of exposure, and so forth. That includes Judge Amy Coney Barrett and anyone she was in contact with," Mr. Schumer said. --->READ MORE HERE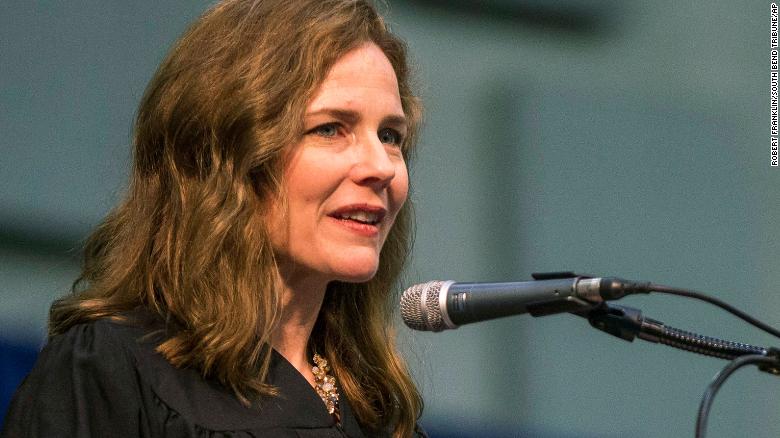 Trump's Supreme Court nominee Amy Coney Barrett was diagnosed with coronavirus this summer:
Judge Amy Coney Barrett, the President's nominee for the US Supreme Court, was diagnosed with coronavirus late this summer but has recovered, according to three sources familiar with the matter.
Barrett, and her husband, Jesse, were diagnosed. Jesse Barrett was asymptomatic but Barrett felt "a little under the weather but recovered," one of the sources said.
After the news early Friday that President Donald Trump and first lady Melania Trump contracted coronavirus, Barrett tested negative for coronavirus on Friday, according to White House spokesman Judd Deere.
Barrett, who is tested daily, was last with the President on Saturday when Trump announced from the White House Rose Garden he would be nominating her to the Supreme Court, Deere said. --->READ MORE HERE
Follow links below to related stories:
McConnell vows 'full steam ahead' on Barrett as fears rise of virus outbreak
Lindsey Graham: Trump 'very focused' on confirming Barrett to Supreme Court despite his coronavirus diagnosis
Trump calls Graham, McConnell about SCOTUS hearing after COVID-19 diagnosis
Democrats are right: In-person confirmation hearings are too risky, SO SKIP AHEAD TO THE VOTE
If you like what you see, please "Like" us on Facebook either
here
or
here
. Please follow us on Twitter
here
.