Amy Coney Barrett hailed as a 'legal trailblazer' and 'brilliant' Supreme Court choice:
Judge Amy Coney Barrett was showered with praise from supporters who called her a "brilliant" choice for the Supreme Court and swatted down attacks on her faith and family.
Sen. Lindsey Graham, the Republican chair of the Judiciary Committee, dubbed Barrett an "outstanding" nominee.
"Judge Barrett is highly qualified in all the areas that matter – character, integrity, intellect, and judicial disposition," Graham tweeted shortly after President Trump announced Barrett as his pick.
Republican Sen. John Cornyn of Texas, a Judiciary Committee member, called her "a legal trailblazer w/respect for the law & our nation's founding principles.
"The Senate will begin a thorough review of Judge Barrett's nomination, a process that shouldn't be rushed. Despite previous attacks based on her religious faith, I hope Democrats choose not to engage in another character assassination, as they did against Justice Kavanaugh," Cornyn tweeted. --->READ MORE HERE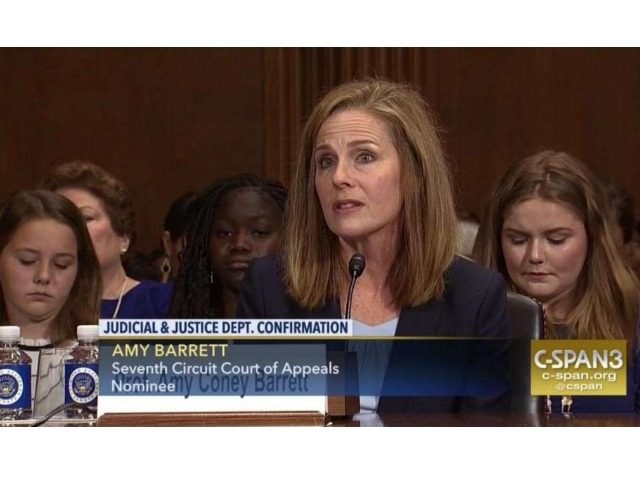 Democrats Launch Smear Attacks on Amy Coney Barrett's Adopted Children:
Democrats began smearing Judge Amy Coney Barrett on Friday night before President Donald Trump even nominated her to become the next Associate Justice of the U.S. Supreme Court, which he is expected to do on Saturday afternoon.
Dana Houle, a Democrat activist who was once a chief of staff on Capitol Hill to a Democrat lawmaker, tweeted Friday night that he hopes Barrett is investigated over the children she and her husband adopted from Haiti. "I would love to know which adoption agency Amy Coney Barrett & her husband used to adopt the two children they brought here from Haiti," Houle wrote.
"So here's a Q: Does the press even investigate details of Barrett's adoptions from Haiti?" Houle wrote in a follow-up tweet. "Some adoptions from Haiti were legit. Many were sketchy as hell. And if the press learned they were unethical & maybe illegal adoptions, would they report it? Or not bc it involves her children"
In a third follow-up tweet, Houle added: "Would it matter if her kids were scooped up by ultra-religious Americans, or Americans weren't scrupulous intermediaries & the kids were taken when there was family in Haiti? I dunno. I think it does, but maybe it doesn't, or shouldn't." --->READ MORE HERE
Follow links below to related stories:
Feminists Should Be Celebrating Amy Coney Barrett
Republicans blast left-wing critics questioning Amy Coney Barrett's adoption of Haitian children
Amy Coney Barrett delivers remarks after being nominated for Supreme Court
Dems scramble for SCOTUS strategy as GOP hopes for an Election Day boost
Senate Dems label Judge Barrett a health care villain, scramble for cause to oppose her
Palin hints at Senate run in Alaska if Lisa Murkowski opposes Trump's Supreme Court nominee
Progressive groups buy Amy Coney Barrett domain name in attempt to smear her
If you like what you see, please "Like" us on Facebook either
here
or
here
. Please follow us on Twitter
here
.