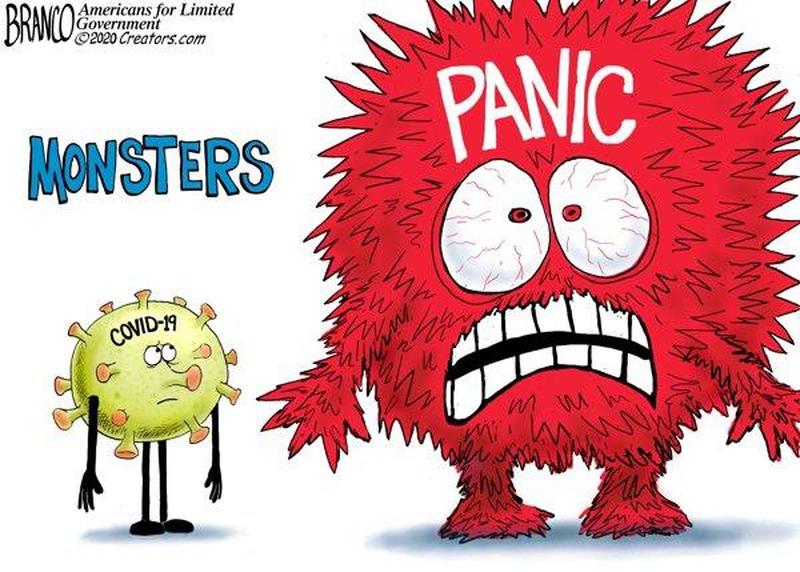 Fear Fatigue Is More Dangerous Than COVID-19
Our daily lives are filled with risks - lots of risks.
Just look at these examples:
Every year, 30,000 to 40,000 Americans die in automobile accidents, yet none of us is willing to give up cars to avoid the possibility of dying in a crash.
Heart disease kills more than 600,000 of our fellow citizens annually, yet we continue to eat fast food and pack on extra pounds.
Diabetes puts more than 80,000 Americans into their graves each year, yet we do not ban the use of sugar.
Close to 50,000 Americans take their own lives annually, yet we have instituted COVID-19 policies that have increased the incidence of suicide to the highest levels seen since the Great Depression.
Millions of children are infected with influenza each year, and hundreds die from the disease. But we have never closed our schools or insisted on masking the population to prevent the spread of flu.
Child abuse and child sex-trafficking are at record levels in this country, and many specialists believe that it is due, in part, to our schools being closed while adults are unable to go their normal daily routines.
The CDC estimated that as many as 500,000 people died worldwide from the H1N1 virus in 2009 - the first year that that virus circulated. Overall, 80 percent of H1N1 virus–related deaths were thought to have occurred in people younger than 65 years of age. Despite this, we didn't close the schools, mask the population, or shut down the economy. --->READ MORE HERE.
Horowitz: Study: In 2 weeks in Denver, more people died of heart attacks in lockdown than of coronavirus
Something uncanny happens when the government exaggerates the threat level of one particular virus and tells people they must stay home. People get scared and stay home … even when they are having a heart attack. A new study indicates that more people might have died at home from untreated heart attacks for fear of coming to hospitals than from coronavirus in Denver, Colorado. This would be yet another example of the man-made plague of lockdown and fear causing more deaths than the virus itself.
A group of doctors at Denver Health Medical Center led by Brian Stauffer were baffled by what many other hospitals have noticed across the world – that the number of people coming into emergency rooms for heart attacks plummeted during the lockdowns in late March and April. Rather than positing some voodoo explanation of coronavirus curing heart attacks, Stauffer's teams observed an obvious anomaly in the data on emergency calls that gives away the culprit in this mystery.
On the one hand, the weekly activation of EMS calls by the Denver Health Paramedic Division, the only public ambulance service in the region, plummeted nearly by half during the shelter-in-place order between March 29 and April 11. On the other hand, the number of reported cardiac deaths at home were 2.2 times higher in 2020 compared with averaged historical controls over the same two-week period.
While this hypothesis needs further study, it doesn't take Sherlock Holmes to figure out that the two observations work together. ER doctors were likely seeing fewer cardiac patients because people were scared to call 911 and come to hospitals after experiencing typical warning signs of the onset of a heart attack. In turn, a good number of those people likely died of heart attacks at home. There were 92 cardiac arrests at home during that period of time, 51 more than the recent average for a two-week period. --->READ MORE HERE
Follow links below to related stories and resources:
USA TODAY: Coronavirus Updates
WSJ: Coronavirus Live Updates
YAHOO NEWS: Coronavirus Live Updates
NEW YORK POST: Coronavirus The Latest
If you like what you see, please "Like" us on Facebook either
here
or
here
. Please follow us on Twitter
here
.