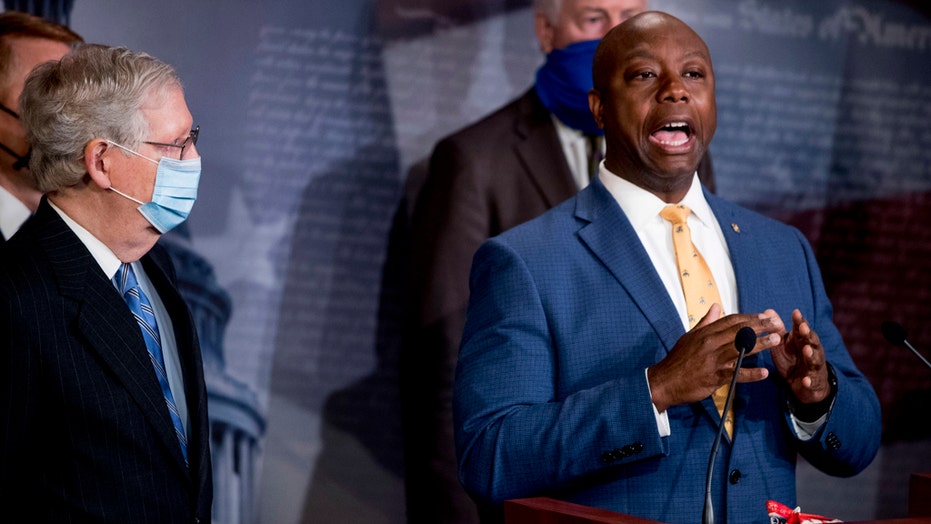 Senate Republicans on Wednesday unveiled their "Justice Act" police reform legislation to hold officers accountable.
Sen. Tim Scott, the lone African-American GOP senator, spearheaded the legislation in the wake of George Floyd's death and nationwide protests demanding racial justice – including calls from activists to dismantle police departments. He framed the legislation as a bridge between law enforcement and communities of color.
The Senate bill came after last week Democrats in the House revealed their own "Justice in Policing Act."
Here's what's in the Republican bill:
Chokeholds discouraged, disincentivized
The bill would discourage chokeholds by withholding federal grants from departments that allow for such deadly restraint. President Trump released an executive order Tuesday that would ban chokeholds except in life-threatening situations.
Increased data collection on use of force
The bill states that currently only 40 percent of law enforcement officers contribute to the FBI National Use of Force Data Collection, and there is no official system for tracking police shootings. Under the Justice Act state and local governments would be required to report to the FBI any use of force by a law enforcement officer that causes injury and any discharge of a firearm.
Read the rest the rest of what's in the GOP Bill
HERE
and follow link below to a related story:
Key differences in the House, Senate police reform bills
If you like what you see, please "Like" us on Facebook either
here
or
here
. Please follow us on Twitter
here
.