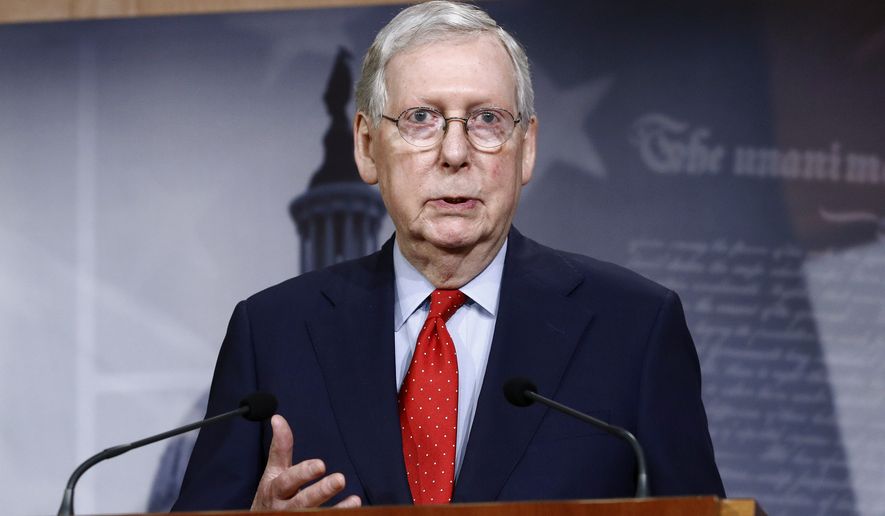 President Trump on Saturday suggested that Senate Majority Leader Mitch McConnell needs to be more aggressive about punishing Democrats who had pushed the Russia collusion line and that the GOP could lose in November without an adequate response.
Mr. Trump shared a piece from The Federalist making the case that Mr. McConnell was insufficiently supportive of the president in recent years on the Russia issue and that the Republican base could be depressed in November if the majority leader doesn't get more aggressive.
"Mitch, I love you, but this is 100% true. Time is running out," Mr. Trump said on Twitter. "Get tough and move quickly, or it will be too late."
"The Dems are vicious, but got caught. They MUST pay a big price for what they have done to our Country. Don't let them get away with this!" the president said, also tagging Senate Judiciary Committee Chairman Lindsey Graham.
Mr. Trump and members of his staff are at Camp David this weekend.
Mr. McConnell has generally deferred to Senate Intelligence Committee Chairman Richard Burr on issues related to alleged collusion with Russia on the part of the Trump campaign in 2016.
Read the rest of the story
HERE
and follow links below to related stories:
Trump pushes McConnell to embrace 'Obamagate'
'Time is running out': Trump tells McConnell to take action on Obama administration officials
If you like what you see, please "Like" us on Facebook either
here
or
here
. Please follow us on Twitter
here
.