Our entire nation dodged a bullet late yesterday when the Supreme Court stayed a Ninth Circuit injunction that would have caused a mass rush of caravans at our border. But had SCOTUS declined to intervene, would our government really have opened our borders during an official global pandemic just because of an illegal lower court opinion?
Here's a rule of thumb: If the fallout from a court ruling requires the president to send troops to an international border to stem the tide of foreign nationals rushing in, that is clearly an issue over which the court has no jurisdiction.
Last Friday, following the Ninth Circuit's announced injunction on the DHS' "remain in Mexico" policy, Customs and Border Protection (CBP) announced the deployment of 160 troops to the border. According to the press release, CBP would deploy 80 active-duty troops to San Diego's San Ysidro border crossing and 80 to El Paso's Paso del Norte bridge to assist agents with repelling a potential rush at the border. Warning of the "amassment of large groups in Mexico with the potential to forcibly enter the United States," the statement said the troops would provide "military police support, engineer, and aviation support" to the customs agents manning those two ports.
According to local news in Texas, the troops have already arrived in El Paso.
This is all because of one circuit court that believes judges, not the political branches, get to decide who comes into the country, contrary to the Supreme Court's ruling in Trump v. Hawaii. The court would have re-implemented its injunction on Wednesday if not for the intervention of the Supreme Court hours before the injunction was to take effect.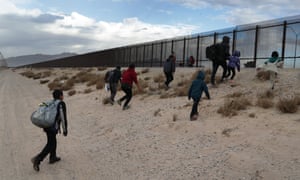 It's self-evident that there is an eager crowd of illegal aliens waiting to rush the border in anticipation of these court rulings. It's likely why, for the first time in 10 months, border apprehensions rose slightly in February. The numbers from Tucson are already rising as the Ninth Circuit ruled that the "remain in Mexico" policy be halted for those who will now purposely come to Arizona or California. Will this administration really allow the Ninth Circuit to restart the border crisis? Remember, the open-borders groups have many more lawsuits in the pipeline. Are we really required to open our borders until the Supreme Court steps in at each stage of this game of lawsuit whack-a-mole?
Read the rest of the story
HERE
.
If you like what you see, please "Like" us on Facebook either
here
or
here
. Please follow us on Twitter
here
.