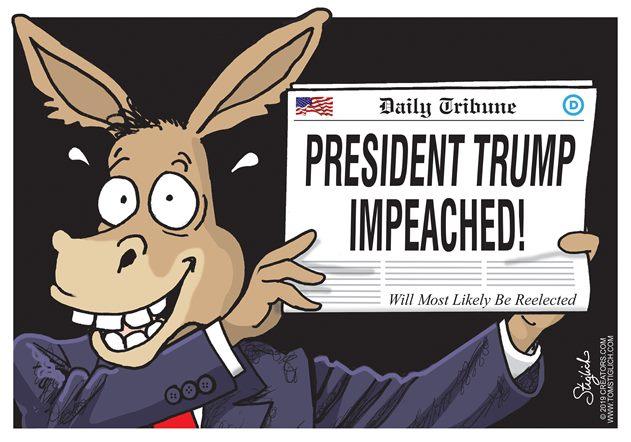 And so it came to pass, that in the deep state's frenzy of electoral desperation, the 'impeachment' card was played. The hammer has fallen. Nearly the entirety of the legacy media news cycle has been dedicated to the details, and not really pertinent details, but the sorts of details which presume the validity of the charges against Trump in the first place. Yes, they all beg the question. What's forgotten here is that the use of this process along clearly partisan lines, and more – towards clearly partisan aims – is a very serious symptom of the larger undoing of any semblance of stability in the US government.
The fact that the impeachment is dead in the water, by Pelosi's own admission, is evident in Trump's being adamant that indeed it must be sent to the Senate – where he knows he'll be exonerated. But even if it doesn't go to the Senate, what we're left with still appears as a loss for Democrats. Both places are his briar patch. This makes all of this a win-win for team Trump.
Only in a country that produces so much fake news at the official level, could there be a fake impeachment procedure made purely for media consumption, with no real or tangible possible victory in sight.
For in a constitutional republic like the United States, what makes an impeachment possible is when the representatives and the voters are in communion over the matter. This would normally be reflected in a mid-term election, like say for example the mid-term Senatorial race in 2018 where Democrats failed to take control. Control of the Senate would reflect a change of sentiment in the republic, which in turn and not coincidentally, would be what makes for a successful impeachment.
Don't forget, this impeachment is fake
Nancy Pelosi is evidently extraordinarily cynical. Her politics appears to be 'they deserve whatever they believe'. And her aim appears to be the one who makes them believe things so that they deserve what she gives them. For little else can explain the reasoning behind her claim that she will 'send the impeachment to the Senate' as soon as she 'has assurances and knows how the Senate will conduct the impeachment', except that it came from the same person who told the public regarding Obamacare that we have to 'We have to pass the bill so that you can find out what is in it.".
In both cases, reality is turned on its head – for rather we will know how the Senate intends to conduct its procedure as soon as it has the details, which substantively includes the impeachment documents themselves, in front of them, and likewise, legislators ought to know what's in a major piece of legislation before they vote either way on it. Pelosi's assault on reason, however, isn't without an ever growing tide of resentment from within the progressive base of the party itself.
We have quickly entered into a new era which increasingly resembles the broken political processes which have struck many a country, but none in living memory a country like the US. Now elected officials push judges to prosecute their political opponents, constitutional crises are manufactured to pursue personal or political vendettas, death threats and rumors of coups coming from media and celebrities being fed talking points by big and important players from powerful institutions.
This 'impeachment' show really takes the cake, does it not? We will recall shortly after Trump was elected, narrator for hire Morgan Freeman made a shocking public service announcement. It was for all intents and purposes, a PSA notifying the public that a military coup to remove Trump would be legitimate and in order. Speaking about this PSA, and recounting what was said, would in any event read as an exaggeration, or some allegorical paraphrasing made to prove a point. Jogging our memories then, Freeman spoke to tens of millions of viewers on television and YouTube saying:
Read the rest from Joaquin Flores
HERE
.
If you like what you see, please "Like" us on Facebook either
here
or
here
. Please follow us on Twitter
here
.