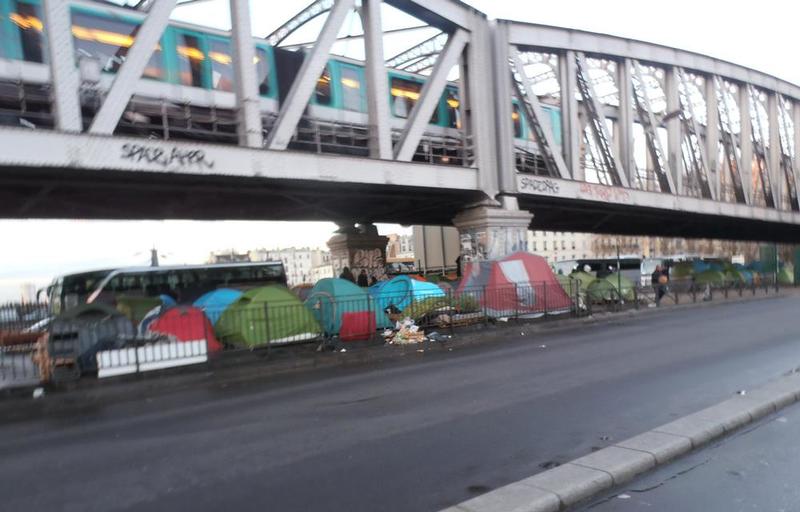 French police recently cleared more than 2,000 migrants from makeshift encampments in northern Paris. The crackdown comes after the government announced a series of measures to curb illegal immigration.
The migration crackdown appears to be aimed at blunting the rising popularity of the anti-mass-migration party National Rally and its leader Marine Le Pen. She has dismissed the government's actions as a "political swindle" that will increase, not decrease, immigration.
On November 28, police began removing hundreds of migrants from a camp at Porte d'Aubervilliers in the 19th arrondissement in northeastern Paris. The clearance operation was delayed by a week due to an insufficient police presence to guarantee security. An estimated 2,000 migrants are living in the camp in squalid conditions.
On November 7, 500 police officers cleared more than 1,600 migrants from two makeshift camps near Porte de la Chapelle in the 18th arrondissement in northern Paris. The camps, consisting mostly of tents, were located under the Boulevard Périphérique, a massive, multi-lane ring road that loops around the French capital.
A total of 1,606 migrants, from Africa, Asia and the Middle East, were put on buses and taken to temporary accommodations in other parts of Paris. Many other migrants, presumably those whose asylum applications have already been denied, fled before the buses arrived to avoid being registered, processed and possibly deported.
Interior Minister Christophe Castaner said that the migrants will be housed at public facilities while their asylum requests are being processed. He added that those whose asylum requests are denied would have to leave France.
Police said that they would maintain a presence in the areas to ensure that the migrants do not return. "I will no longer tolerate these installations by the roadside here or anywhere else on public spaces in Paris," said Paris Police Chief Didier Lallement.
The Deputy Mayor of Paris, Emmanuel Grégoire, said that in addition to the camp in Porte de la Chapelle, there were another 1,600 migrants in a camp at nearby Porte d'Aubervilliers and more camps at Porte de la Villete and in Seine-Saint-Denis, all in northern Paris.
Observers said that the crackdown in Paris could trigger a mass movement of migrants to the northern port city of Calais, from where they may try to reach Britain by crossing the English Channel. French authorities cleared a sprawling migrant camp in Calais in 2016, and many residents of the camp fled to Paris and set up migrant camps across the city.
The clearing operation in Paris is part of a package of 20 measures announced by Prime Minister Édouard Philippe on November 6 to "take back control" over migration policy.
Read the rest of the story
HERE
.
If you like what you see, please "Like" us on Facebook either
here
or
here
. Please follow us on Twitter
here
.