The population of so-called "Dreamer" illegal aliens has risen by at least one million since President Barack Obama announced his Rose Garden DACA amnesty for child migrants who entered the United States before 2007.
"As of 2017, we estimate that the United States has more than 1.1 million illegal immigrants who arrived before the age of 16 but are not eligible for the current DACA program because they arrived after the [2007] cutoff time," said a November 18 study by Jason Richwine, a demographer who works with the Center for Immigration Studies.
Many more children were brought over the border in 2018 and 2019 because border defenses were paralyzed by the alliance of Democrats, immigration lawyers, judges, and cheap-labor Republicans. In part, the rush of foreign parents with children came because the migrants saw the Democrats offering the huge prize of citizenship to the prior wave of DACA illegal aliens.
According to Richwine:
[In 2018 and 2019], border apprehensions have increased dramatically, so did the predicted number of childhood arrivals whom we would expect to observe in the ACS [the Census Bureau's American Community Survey]: 227,000 in 2018 and a remarkable 437,000 in 2019, according to the model … it is plausible that the pool of potential DACA recipients has grown enormously in the last two years, as the number of family units apprehended at the border certainly has.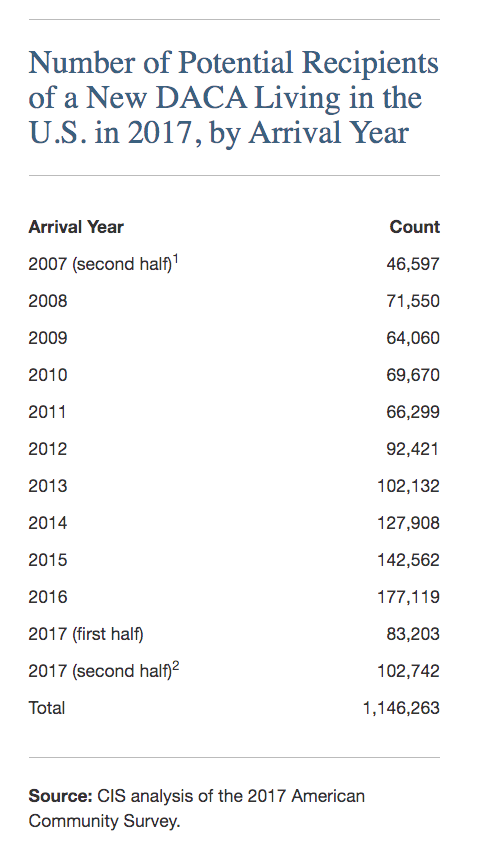 CLICK CHART to ENLARGE
Any amnesty would lower Americans' wages by raising the labor supply, bump up Americans' rents by growing the population, further pack Americans' blue-collar schools with migrant children, and continue to shift the focus of American politics away from Americans' priorities.
Richwine's data suggests a DACA amnesty could include nearly four million youths and children — which is roughly equal to the number of young Americans who will turn 18 this year.
In June, Democrats passed their "Dream and Promise Act" amnesty, which was low-balled by supporters as an amnesty for 2.5 million illegal aliens. That number included non-DACA migrants who are facing a legal end to their "Temporary Protective Status" (TPS) and "Deferred Enforced Departure" (DED) programs.
For example, the Washington Post downplayed the illegality of the migrants and their numbers, saying in a headline that "House Democrats propose offering 2 million immigrants the chance to apply for U.S. citizenship."
Read the rest of the story
HERE
.
If you like what you see, please "Like" us on Facebook either
here
or
here
. Please follow us on Twitter
here
.