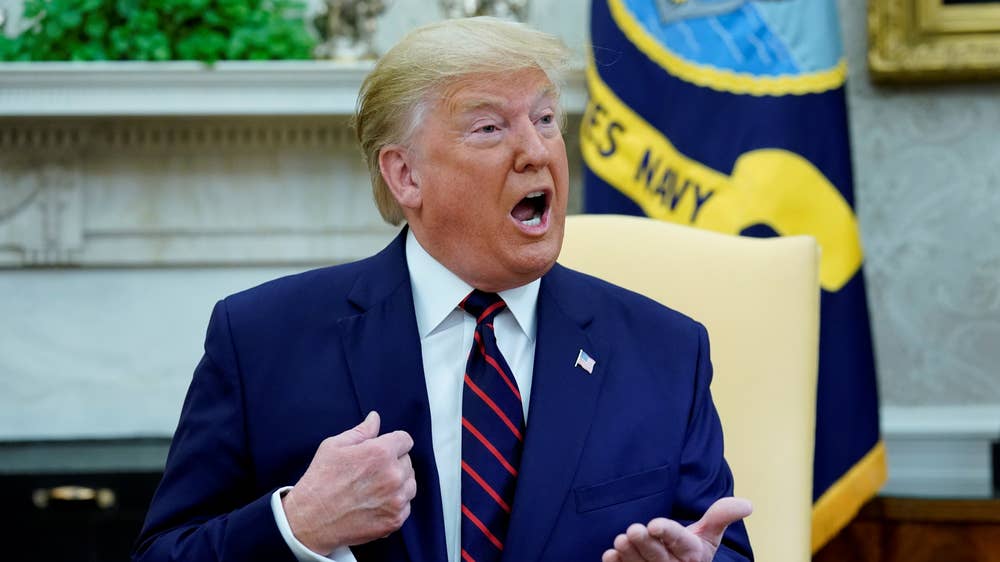 With pressure rising ahead of televised testimony, president urges supporters to stay on message
Donald Trump has hit out at Republicans trying to formulate a new defence for him ahead of the impeachment inquiry ramping up this week with televised public hearings.
The president tweeted: "The call to the Ukrainian President was PERFECT. Read the Transcript! There was NOTHING said that was in any way wrong. Republicans, don't be led into the fools trap of saying it was not perfect, but is not impeachable. No, it is much stronger than that. NOTHING WAS DONE WRONG!"
The message appeared to be aimed at supporters including the Kentucky senator Rand Paul who have been putting forward an alternative defence to his own.
Mr Trump has repeatedly claimed that his 25 July call to the Ukrainian president Volodymyr Zelensky, in which he asked him to investigate his political rivals, was "perfect".
He has been insistent that the call did not contain a "quid pro quo", namely that he was withholding military aid and a White House visit until the Ukrainians announced an investigation into Democratic presidential hopeful Joe Biden.
The call prompted an anonymous whistleblower complaint which in turn led to an impeachment inquiry
Mr Trump has said the aid was being withheld because he was concerned at corruption in Ukraine and because he thought the European Union should be contributing more to defend the former Soviet nation against Russian-backed separatists.
Read the rest of the story
HERE
and follow links to related stories below:
Trump calls for complete support, not just fight against impeachment
Trump Tweets 'NOTHING WAS DONE WRONG' After Republicans Offer Mixed Defenses Of Him On Morning Shows.
If you like what you see, please "Like" us on Facebook either
here
or
here
. Please follow us on Twitter
here
.