If an impeachment resolution came over from the House, Mitch McConnell said on Monday, the Senate would have to take it up. In the meantime, those confused by the impeachment process might keep the tangled back story in mind.
Back in 2017, Rep. Adam Schiff was crowing that there was evidence in plain sight that Donald Trump colluded with Russia to steal the 2016 election. The intel committee boss never produced the evidence and neither did Robert Mueller with his police-state tactics. Schiff has now turned to improvised dialogue about President Trump pressuring Ukraine to investigate Joe Biden in exchange for military aid. That is a tough act to follow but House Speaker Nancy Pelosi is up to the task.
On Sunday the San Francisco Democrat made the rounds of the talk shows explaining, "This is a very sad time for our country. There is no joy in this. We must be somber, we must be prayerful and we must pursue the facts," and so on. This from an alleged moderate who formerly opposed calls for impeachment from the party's far left. Now Pelosi has impeachment on the fast track.
Impeachment normally starts with a resolution and a vote on the house floor. Pelosi bypassed that vote and announced that an impeachment inquiry was already under way. That spared the representatives from going on record and gave the go-ahead for committees to continue their investigations.
The vaunted "intelligence community" changed a key whistleblower form to drop the requirement for "first-hand" information. So the complaint could proceed even though the whistleblower had no knowledge of President Trump's call with Ukrainian President Volodymyr Zelensky.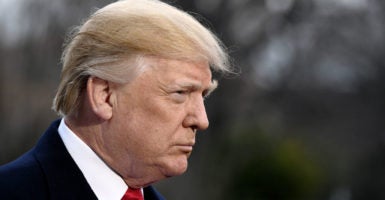 President Trump is like Paul Newman in Absence of Malice, being set up by someone with no face and no name. The whistleblower is reportedly a CIA employee but the president wants to know who this person is and face his accuser. The accuser is being represented by Andrew Bakaj, a former CIA officer who says the whistleblower "is entitled to anonymity."
Read the rest from Lloyd Billingsley
HERE
.
If you like what you see, please "Like" us on Facebook either
here
or
here
. Please follow us on Twitter
here
.