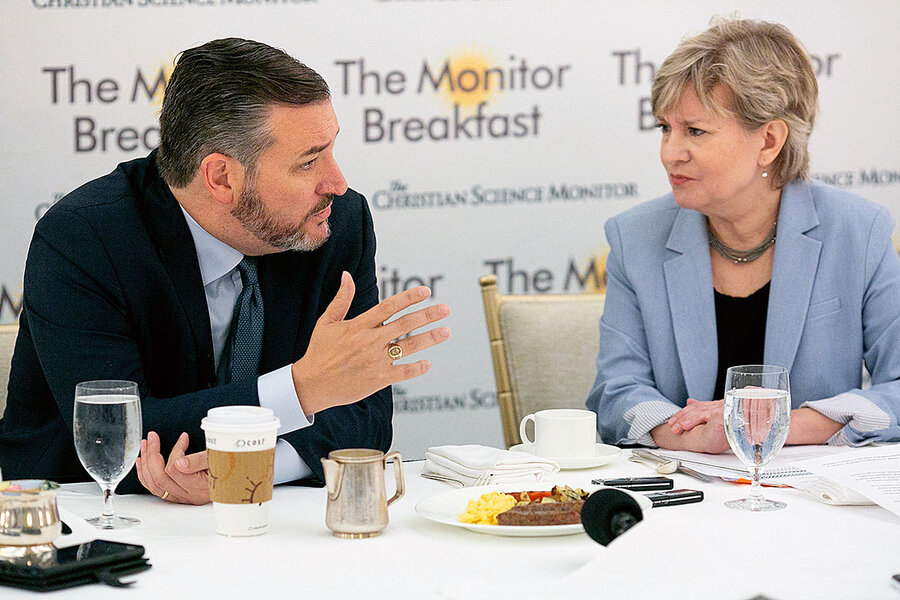 Sen. Ted Cruz sounds ready to run for president again – in 2024.
Speaking to The Monitor after a breakfast session with reporters, the Texas Republican didn't hesitate when asked if he would take another crack at the White House.
"Look, I hope to run again," said Senator Cruz, who was the runner-up last time to Donald Trump for the Republican presidential nomination. "We came very, very close in 2016. And it's the most fun I've ever had in my life."
If President Trump wins reelection next year, he won't be eligible to run again; and if a Democrat wins, Republicans will start lining up right away. Mr. Cruz may be first out of the gate.
"The great thing is, every issue I was fighting for in the presidential campaign is front and center in the Senate," he said.
Mr. Cruz's comment on 2020 came out of a discussion on the nation's fiscal imbalance; the nonpartisan Congressional Budget Office projecting a fiscal-year 2019 deficit of $960 billion and deficits averaging $1.2 trillion annually between FY2020 and 2029. The debt is at $22 trillion and rising.
Mr. Cruz first ran for the Senate in 2012 as a tea party outsider, intent on cutting taxes, regulation, and spending. While Mr. Trump has done the first two, addressing deficits has not been a high priority. In his 2016 presidential campaign, Mr. Cruz's proposed spending cuts included eliminating five federal agencies. But, he said, spending cuts aren't enough.
"It takes presidential leadership, and it won't come from Congress," Mr. Cruz said. "I will say, though, the most powerful tool for addressing the deficit and the debt is not actually spending cuts. The most powerful tool is economic growth, which is why that's my No. 1 priority."
Read the rest of the story
HERE
.
If you like what you see, please "Like" us on Facebook either
here
or
here
. Please follow us on Twitter
here
.