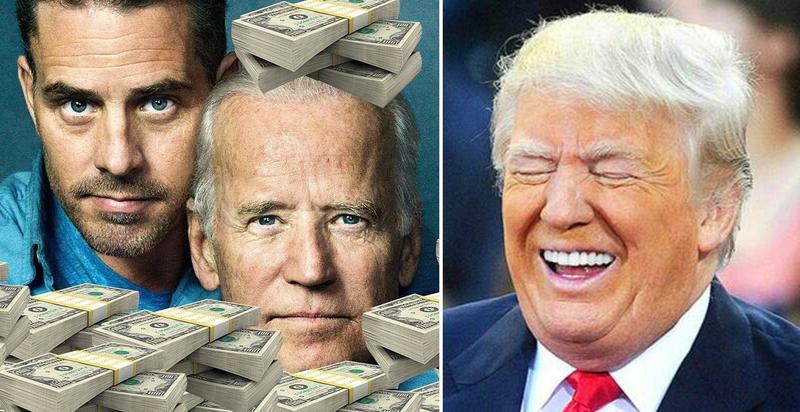 President Trump and his social media team have seized on allegations that Joe Biden abused his position as Vice President to strongarm Ukraine into firing its top prosecutor - who was leading a wide-ranging investigation into Biden's son Hunter and the natural gas firm that paid him $50,000 per month despite his total lack of experience.
While the Biden-Ukraine story has been simmering for the better part of five years under a firm MSM lid, the scandal has been thrust into the spotlight after the MSM peddled a 'scandalous' whistleblower story in which a "partisan" G-man reported that Trump made promises to a foreign leader that were inappropriate.
Now, we come to find out that the conversation was with Ukraine's new president, Volodymyr Zelensky, about reopening the Biden investigation - and that it did not contain a quid pro quo.
And while Democrats' hopes of finally nailing Trump appear to be melting into their sea of Russiagate tears, Trump is now capitalizing on the turnabout, bigly.
"The Fake News Media and their partner, the Democrat Party, want to stay as far away as possible from the Joe Biden demand that the Ukrainian Government fire a prosecutor who was investigating his son, or they won't get a very large amount of U.S. money, so they fabricate a story about me and a perfectly fine and routine conversation I had with the new President of the Ukraine," Trump said this in his opening salvo over Twitter Saturday morning.
"Nothing was said that was in any way wrong, but Biden's demand, on the other hand, was a complete and total disaster. The Fake News knows this but doesn't want to report!"
Read the rest of the story
HERE
.
If you like what you see, please "Like" us on Facebook either
here
or
here
. Please follow us on Twitter
here
.