A new regulation posted by the Departments of Justice and Homeland Security Monday morning seeks to address the ongoing crisis at the southern border by making stricter the eligibility requirements for seeking asylum in the United States.
The rule, which was posted for review on Monday morning and goes into effect Tuesday, specifically deals with the asylum eligibility of "aliens who enter or attempt to enter the United States across the southern land border after failing to apply for protection from persecution or torture while in a third country through which they transited en route to the United States."
The concept is simple: Where an applicant seeks asylum should be based on where an applicant first finds safety from whatever they're fleeing, rather than on personal preference of country.
"In sum, this rule provides that, with limited exceptions, an alien who enters or arrives in the United States across the southern land border is ineligible for the discretionary benefit of asylum unless he or she applied for and received a final judgment denying protection in at least one third country through which he or she transited en route to the United States," the rule reads.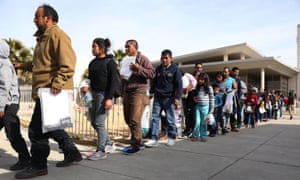 If migrants leave a country in Central America and come to the United States, the new rule says they wouldn't be eligible for asylum here unless they first went through the asylum application process somewhere along the way and were denied.
The authority for making the rule can be found in section 208 0f the Immigration and Nationality Act, which deals with asylum and refugee status. That section of the INA also gives the attorney general and secretary of homeland security to "the authority to promulgate regulations establishing additional bars on eligibility to the extent consistent with the asylum statute, as well as the authority to establish 'any other conditions or limitations on the consideration of an application for asylum' that are consistent with the INA," according to the new rule.
Read the rest from Nate Madden
HERE
.
If you like what you see, please "Like" us on Facebook either
here
or
here
. Please follow us on Twitter
here
.