The Associated Press reports that 13,000 migrants are standing by on waiting lists to make asylum claims just south of the Mexican border with the United States.
"This is what has happened since the Trump administration placed asylum in a chokehold," the writers for the Associated Press stated. More likely, this is the consequence of hundreds of thousands of mostly Central American migrants attempting to overwhelm the U.S. immigration system to make claims that are likely to be judged as non-substantiated, the acting director of U.S. Immigration and Customs Enforcement (ICE) told Breitbart News.
ICE Acting Director Matthew Albence told Breitbart News in an exclusive interview earlier this week that during the last several months, immigration judges working for the Department of Justice issued around 7,000 orders for removals for migrants making asylum claims. "Of the approximately 7,000 removal orders that have been issued over the past seven or eight months over 6,000 of them have been entered in absentia — meaning that the 'family units' didn't even show up in court for their first hearing," Director Albence stated. "Obviously, that called into question, the validity of their asylum claims."
"These individuals are just gaming the system," Albence continued."They know they will get released, they will never show up (for their immigration hearing), and that we simply just don't have the resources to go out and get that many of them in any sort of concerted fashion."
Across the Mexican border, haphazard systems greet asylum seekers trying to get into the U.S. https://t.co/bi82UmPATW pic.twitter.com/Dh7J2tvm83

— The Associated Press (@AP) May 9, 2019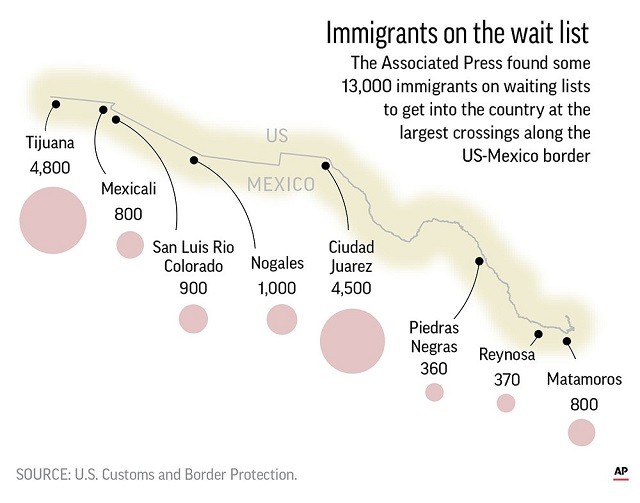 CLICK MAP to ENLARGE
In an article written for Breitbart News, Kansas' Former Secretary of State Kris W. Kobach wrote, "We are providing huge incentives for migrants to enter illegally and walk up to Border Patrol agents to demand a ride to the Border Patrol stations so they can make what is likely a bogus asylum claim. We know the claims are likely to be bogus, because the overwhelming majority of these migrants are denied asylum when their hearings eventually occur."
Read the rest of the story
HERE
.
If you like what you see, please "Like" us on Facebook either
here
or
here
. Please follow us on Twitter
here
.