It's not just five-year-old children coming to our border, as depicted in many media accounts. Every week, we see more examples of violent criminal aliens in this country who have often been deported multiple times but find their way back into the country while our border agents are drafted into babysitting services for Central American migrants. This point was brought to the forefront last week when the Yuma sector Border Patrol caught two individuals with guns at our border within 48 hours.
Last Tuesday, according to CBP, while "a group of 25 Guatemalans made up of family members and juveniles surrendered to agents several miles east of the port of entry" in San Luis, Arizona, three Mexican human smugglers were caught bringing in six other Mexicans. They were caught with several loaded 9mm pistols, and the Special Operations Division was sent out to interdict them.
This was a very significant development, according to retired Texas Department of Public Safety Captain Jaeson Jones. In an interview with CR, Jones said he believes these people who come in armed while Border Patrol is dealing with the family units are working for the cartels. The question is how many more we don't catch. "Firearms carried by smugglers into the United States bring extreme risk to our law enforcement and citizens," said Jones. "Smugglers carry firearms into the country to protect high-value commodities that usually belong to higher-ranking members of the Mexican cartels." Jones explained that the concern of them reacting in "desperation" to protect goods for the cartels is "why you see more specialized law enforcement units like Special Operations Division being utilized to arrest when intelligence indicates firearms are being used by smugglers."
Jones told me his concerns about cartel smuggling were further confirmed when less than 48 hours later, CBP recovered another firearm from a multinational group arrested in the same area. Here is a picture of the firearm posted by CBP: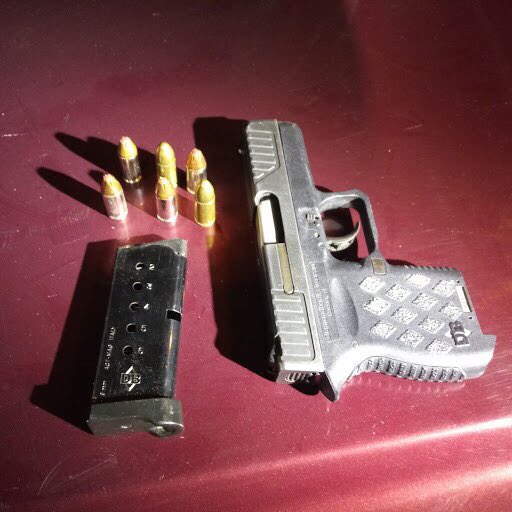 #YumaSector agents recover 2nd firearm amongst human smugglers in less than 48 hours. #NationalSecurity #SouthwestBorder ; https://t.co/GlStFriGDD pic.twitter.com/0HZAuDc1NS

— CBP Arizona (@CBPArizona) February 21, 2019
Notice the aftermarket changes and personalized markings on the weapon, from the initials to the diamond shapes on the polymer grips. Jones believes they are very significant. "Given that Mexico has some of the most stringent gun laws in the world, the only people carrying weapons will be those in authority or members of the cartels."
Read the rest of the story
HERE
.
If you like what you see, please "Like" us on Facebook either
here
or
here
. Please follow us on Twitter
here
.