El Salvador nationals traveling with an at least 7,000-strong migrant caravan which is headed to the United States are detailing crime and poverty as their reasons for fleeing the country, both of which are ineligible asylum claims.
El Salvadorans with the caravan, the Associated Press admits, are traveling through Mexico to the U.S. to escape gangs, crime, and poverty — none of which are eligible asylum claims:
A quarter of young Salvadorans who flee do so because they are threatened with or fear violence. Young women are pressured to be "girlfriends" of gang members and face rape or murder if they refuse, while young men are pressured to join the gangs or risk death if they don't. Two out of three Salvadorans never attend high school. [Emphasis added]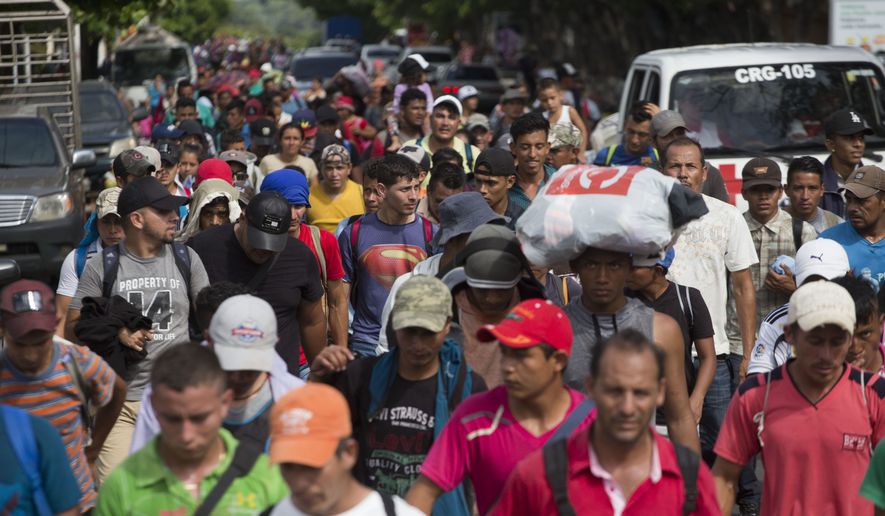 The International Organization for Migration says most Salvadorans migrate for economic reasons. Per capita income is $324 a month and nearly one in three Salvadorans lives in poverty, according to the World Bank, defined as less than $5.50 a day. [Emphasis added]
Many rely on remittances from family members abroad. Salvadorans in the United States sent $5 billion back home last year, amounting to nearly 16 percent of gross domestic product. [Emphasis added]
Thanks to Attorney General Jeff Sessions, former President Obama's loosening of "credible fear" claims have been tightened to exclude foreign nationals fleeing gang violence, crime and domestic abuse.
Read the rest from John Binder
HERE
.
If you like what you see, please "Like" us on Facebook either
here
or
here
. Please follow us on Twitter
here
.