Beto O'Rourke, the Democratic challenger to Senator Ted Cruz (R., Tex.), kept up his attack on the National Rifle Association and reiterated his opposition to using guns to protect schools during a town hall speech last weekend.
While speaking to a crowd at Texas State University, the Democrat said he doesn't take money from political action committees (though he has accepted bundled contributions from liberal PACs like J Street and Democracy Engine Inc.) because he doesn't want his constituents to wonder if he's making decisions based on who has donated to him. Among the questions O'Rourke said he didn't want people to have to ask about him is whether or not he is beholden to gun-rights proponents.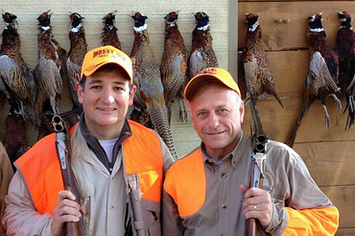 "Did he take money from the NRA?" he said. "Does he represent the gun manufacturers instead of my kids and the families of the 30,000 people we lose every single year to gun violence in this country?"
O'Rourke did not specify that nearly two-thirds of gun deaths in America are the result of suicide.
The candidate did not bring up the issue of gun control in the rest of his speech. However, when an audience member asked whether he supported putting guns in schools as a means to protect students, O'Rourke simply replied, "no." His answer was met with applause from those in attendance, but polling in the state shows that a majority support arming teachers and school staff while 87 percent support having armed security officers in schools.
Read the rest of the story
HERE
.
If you like what you see, please "Like" us on Facebook either
here
or
here
. Please follow us on Twitter
here
.