College-graduate salaries are barely keeping pace with inflation, but the editor of an influential progressive website says the government should import "drastically" more foreign college-graduates for white-collar jobs in the United States.
"We should drastically increase the number of such [visa-] workers who can come — if not eliminate the cap entirely," said Matt Yglesias, editor of Vox.com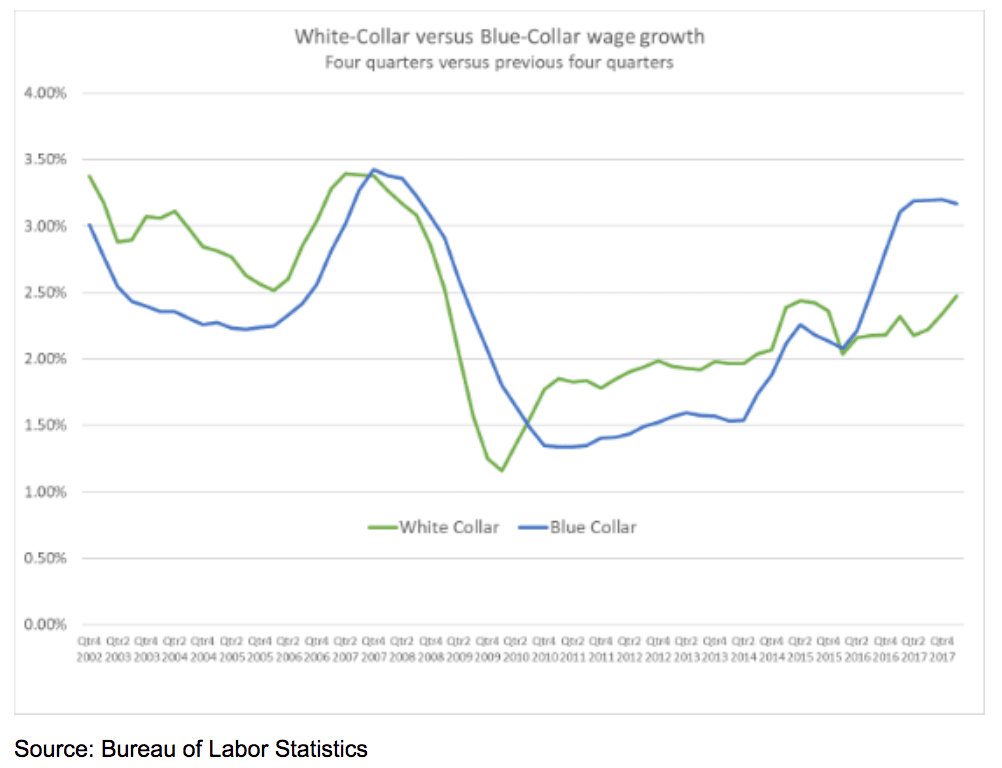 CLICK GRAPH to ENLARGE
Yglesias' call for a much bigger — or even unlimited — supply of foreign college graduates comes as Americans' salaries are just creeping ahead of inflation, according to the Conference Board, a nonprofit consulting firm. Annual growth in white-collar salaries is even lagging behind growth in blue-collar wages, according to board's June 2018 estimate.
The job-tracking site, Glassdoor, sees the same trend in June wage and salary reports. Wages for bank tellers rose by 8.1 percent over the prior 12 months, truck drivers gained 7.3 percent, warehouse workers gained 6.8 percent while cashiers were up 4.9 percent and security guards gained 4.7 percent.
But white-collar salaries for network engineers were down 3.7 percent compared to June 2017, said Glassdoor. Physical therapists were down 2.3 percent; web designers lost 0.8 percent, data scientists lost 0.2 percent and professors were down 0.1 percent.
White-collar salaries are stalling partly because roughly 1.5 million non-immigrant, lower-wage visa-workers have been quietly imported to take many white-collar jobs, sometimes directly from American employees.
Read the rest of the story
HERE
.
If you like what you see, please "Like" us on Facebook either
here
or
here
. Please follow us on Twitter
here
.