Giving the gavel to the Ohio congressman would energize Republicans both in the House and in the grassroots.
House Speaker Paul Ryan (R., Wis.) has endorsed Majority Leader Kevin McCarthy (R., Calif.) as his successor. Conservatives are not amused.
The Right feels stung by last month's deeply embarrassing, 2,232-page, $1.3 trillion omnibus fiasco. Conservatives also are sore over the congressional leadership's failure to place many landmark bills on President Donald J. Trump's desk. With the enormous exception of the Tax Cuts and Jobs Act, Capitol Hill Republicans have handed Trump disturbingly little to sign. While Kentuckian Mitch McConnell's listless Senate "leadership" is mainly culpable, a firmer hand in the House would stimulate the lower body and slap the Senate out of its endless slumber.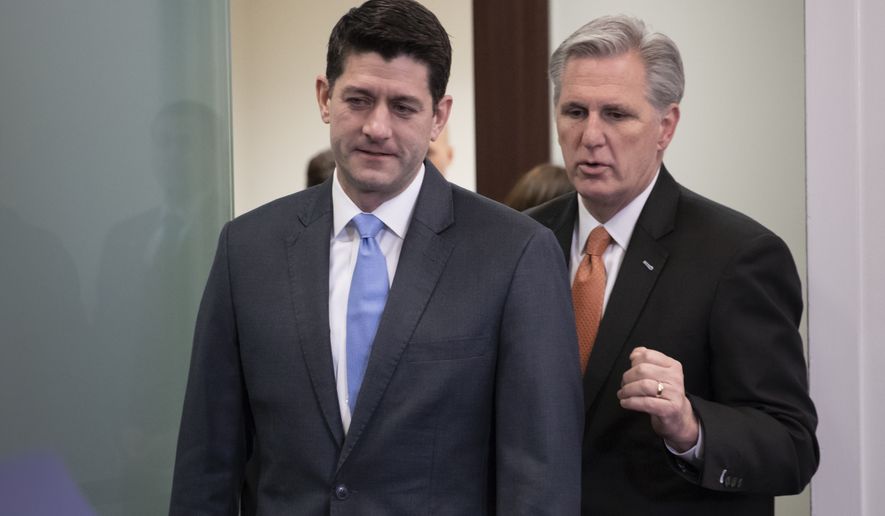 House Speaker Paul Ryan has endorsed Majority
Leader Kevin McCarthy as his successor.
Conservatives increasingly are promoting Representative Jim Jordan (R., Ohio) for speaker. House Republicans need this sharp, lively, and fearless four-time state wrestling champion (record: 150 wins, one loss), not the bland, cautious, and conventional McCarthy. At least ten conservative-activist organizations prescribe Jordan over McCarthy. These include Tea Party Patriots, the American Family Association, Gun Owners of America, and the legendary Richard Viguerie's FedUp PAC.
"The level of grassroots energy surrounding a Jordan speakership campaign is something we haven't seen in years," FreedomWorks CEO Adam Brandon said April 19, as he unveiled its "Draft Jim Jordan" campaign. "It indicates to us that selecting a truly conservative speaker would change the entire momentum of the 2018 midterm election cycle." Within 24 hours, FreedomWorks says, its members initiated 8,000 social-media actions to buoy Jordan.
Read the rest from Deroy Murdock
HERE
.
If you like what you see, please "Like" us on Facebook either
here
or
here
. Please follow us on Twitter
here
.