Democratic Senators are rejecting President Donald Trump's four-part amnesty-and-immigration reform, and are instead working with business-first GOP Senators to pass an amnesty with only token reforms.
"There is not likely to be a DACA deal, though we're working every single day, on telephone calls and person to person, to try to reach this bipartisan agreement," Sen. Dick Durbin told Jake Tapper on the February 4 edition of CNN's State of the Union. Durbin said the Democrats would not stage another shutdown, but declared: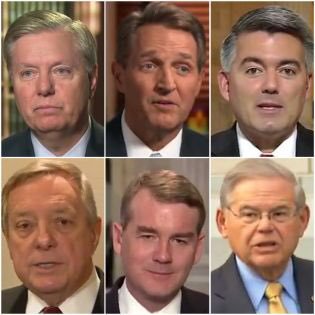 I think we're making real progress. I want to salute the moderates in both the Republicans and Democratic caucuses in the Senate. They have really been a positive voice, Democrats and Republicans sitting in the same room working to try to solve this problem.
The Democrats' sharp-elbowed rejection of Trump's four-part plan — including an amnesty for at least 1.8 million illegals — explains Trump's Friday complaints that Democrats are not bargaining over his four-part framework offer. The offer trades the amnesty in exchange for a border wall with legal upgrades, plus ending the diversity lottery and winding down the chain migration program over the next 10 years.
Read the rest from Neil Munro
HERE
.
If you like what you see, please "Like" us on Facebook either
here
or
here
. Please follow us on Twitter
here
.