Illegal immigrants deserve the same respect and urgent support as Americans soldiers fighting on the battlefield, according to a group of 13 Democratic-affiliated national security officials who are urging Congress to extend the military's promise of "leave no-one behind" to the several million illegal aliens who are now demanding an unconditional amnesty.
The claim came at the tail-end of a Nov. 14 letter in which the 13 Democratic-affiliated officials asked the top four congressional leaders to pass the 'Dream Act' amnesty. The amnesty urged by the five cabinet secretaries, four intelligence chiefs, the former service secretaries and one former admiral would entitle 3.6 million illegal immigrants — including 690,000 DACA beneficiaries — full access to federal aid programs, a fast-track to the voting booth, and the right to bring in millions of their homeland chain-migration relatives, regardless of their job skills, health, age or ideology, or job-market impact on Americans. The letter says: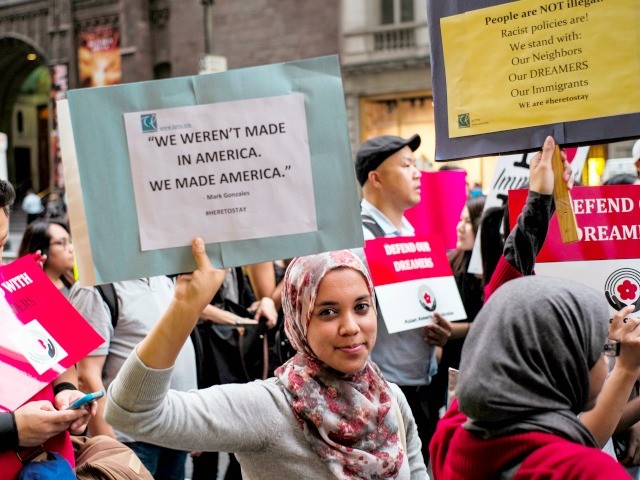 With every day that passes, these Dreamers are getting closer to the reality of deportation. We urge you to pass the Dream Act of 2017 as quickly as possible to provide permanent protection for Dreamers and relieve this deserving group of the uncertainty created by the President's decision to rescind DACA. We should leave no man or women behind. Let that be our guiding principle.
The 13 Democrats who signed the letter are hijacking the moral authority of American soldiers to pitch an unpopular amnesty, said Ira Mehlman, a spokesman for the Federation for American Immigration Reform.
"It is an insult to the people who have gone out there and earned their moral authority by doing something for the country" as soldiers, Mehlman said, adding "those people earned it by self-sacrifice and the illegal-aliens want amnesty for their self-interest… that does not entitle them to amnesty."
Read the rest from Neil Munro
HERE
.
If you like what you see, please "Like" us on Facebook either
here
or
here
. Please follow us on Twitter
here
.