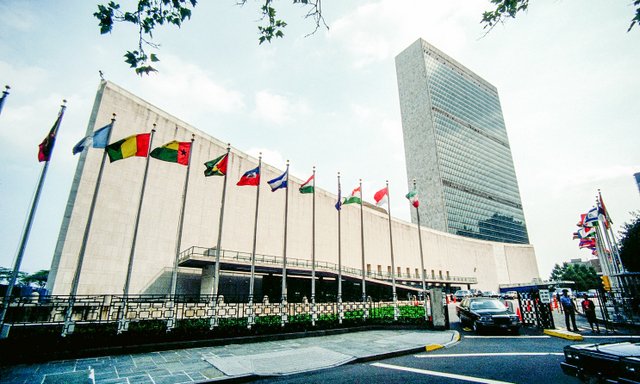 President Trump addressed the increasingly anti-American United Nations General Assembly this week in New York City.
After their father spoke before those scattered throughout the audience who openly call for the downfall of the United States and Israel — from within the borders of their freedom and tolerance crushing dictatorial regimes — hopefully those in the President's family who now run the Trump Organization were inspired to do something truly patriotic.
That being to somehow acquire the United Nations facility in New York City and turn it into a luxury condo building.
The Four Seasons Hotel in Damascus, Syria
A conversion project that — as New York City and real estate expert Donald Trump knows better than anyone — would sell out immediately with the extra added benefit of stopping various money-wasting United Nations schemes in their tracks.
One such scheme involving numerous United Nations officials abusing expense and travel accounts — taxpayer funded — as they seek to replicate the hedonistic lifestyles of liberal Hollywood celebrities and "Real Housewives."
One example recently reported was that the United Nations spent almost $10 million at The Four Seasons Hotel in Damascus, Syria. Yes, $10 million at a five-star hotel. --->
Read the resr of this IBD op-ed
HERE
.
If you like what you see, please "Like" us on Facebook either
here
or
here
. Please follow us on Twitter
here
.