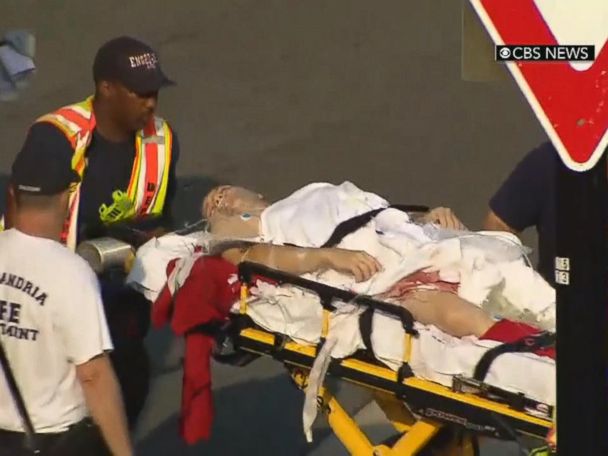 Congressman Steve Scalise being rushed to the hospital
after an attempted assassination
Restoring civility was the talk of Washington after a crazed leftist opened fire on Republican congressman as they attended a Wednesday baseball practice.
The act of political violence shocked the nation, but it was determined by the powers that be that it wasn't the time to wonder about who was responsible for inciting the left-wing gunman to kill GOP lawmakers. It was apparently just a reminder that we need to be more civil to one another.
Granted, most of this determination was spurred on by a media unwilling to air the obvious about the shooting and accept some of the blame for driving a progressive to violence.
The Washington Post published an article boldly claiming the attack on the Right by a leftist was actually, somehow, an "attack on all of us." Similarly, most media outlets treated the matter as a tragedy without explanation; more akin to a tornado than an intentional political attack.
Those on the Right who did make the obvious points on the violence were treated with scorn by journalists and became subject to pieces that treated them as nuts for arguing that the Left should be blamed for one of their own attacking congressmen. Not surprisingly, there seemed to be more "check out these right-wing nut jobs!" articles than ones exploring what left-wing sources might have driven James Hodgkinson to pick up a gun and take murderous action.
Rep Rodney Davis shows shrapnel from baseball
practice shooting
Surprisingly though, leading Republicans and conservatives were happy to oblige the feeling of false unity by demanding more civility and calling for a toning down of unspecified rhetoric. In a dramatic example of this reaction, Republican Illinois Rep. Rodney Davis held up a piece of shrapnel on "Fox News Sunday" he found in his practice bag after the shooting. Davis's message on the shrapnel: "We have to tone down this rhetoric."
Read the rest from Scott Greer
HERE
.
If you like what you see, please "Like" us on Facebook either
here
or
here
. Please follow us on Twitter
here
.