After banning U.S. Press to WH meeting with Russian officials, DID PRESIDENT TRUMP JUST GET PLAYED BY PUTIN?
Hey, if you can't trust the Kremlin, who can you trust?
Picture this. The day after Trump fires the guy who's leading the FBI's Russiagate probe, he hosts the Russian foreign minister and the Russian ambassador whose phone chat with Mike Flynn in December led to Flynn being fired. The meeting had been scheduled — at Vladimir Putin's request — before the decision to can Comey was made, but instead of canceling it or at least asking the ambassador to stay home to avoid horrendous optics, the White House goes ahead with it. And not only do they go ahead with it, they let a Russian photographer into the Oval Office to take pictures on the assumption that he wouldn't leak them the instant the meeting was over to troll the free world with the specter of Trump/Russia collusion in the wake of Comey's termination. Russian Foreign Minister Sergei Lavrov "was right where he has always wanted to be Wednesday," writes Susan Glasser, "mocking the United States while being welcomed in the Oval Office by the president himself."
Who could have foreseen that this would go badly?
The White House did not anticipate that the Russian government would allow its state news agency to post photographs of an Oval Office meeting between President Donald Trump, Russian Foreign Minister Sergei Lavrov and Russia's ambassador to the US, a White House official said…
The White House did not post photos of the meeting although an official White House photographer was also in the room, the White House said. The State Department did post photos of Lavrov's meeting with Secretary of State Rex Tillerson, but that was open to the press…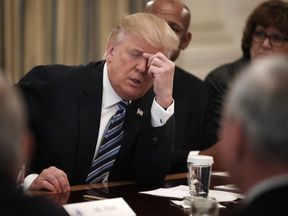 "They tricked us," an angry White House official said.
"That's the problem with the Russians — they lie," the official added.
Even known liars can't believe Team Trump got suckered this badly: --->
Read the rest of the story
HERE
and follow a link to a related story below:
Bamboozled White House Staff Furious To Discover Russians 'Lie'
If you like what you see, please "Like" us on Facebook either
here
or
here
. Please follow us on Twitter
here
.