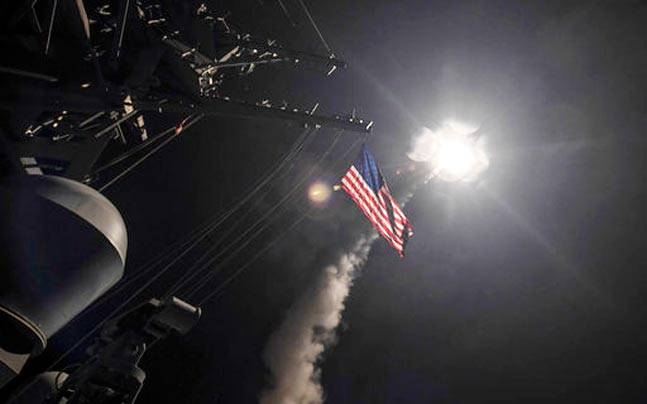 Syria:

President Trump sent a loud message to Syria's Bashar al-Assad for his use of deadly Sarin gas against his own people: Your days of terrorizing your own people with chemical weapons are about to end. But many others are getting Trump's message, too.
"Tonight, I ordered a targeted military strike on the air base in Syria from where the chemical attack was launched," Trump said, speaking from Mar-a-Lago in Florida. "It is in this vital national security interest of the United States to prevent and deter the spread and use of deadly chemical weapons."
WATCH a related video ABOVE
Two U.S. ships in the Mediterranean launched 59 Tomahawk missiles, striking Shayrat Airfield in western Syria, which U.S. intelligence believes has been used as a base for deadly chemical attacks against Assad's own people — including the 100 murdered this week in a Sarin gas attack.
"Using a deadly nerve agent, Assad choked off the lives of men, women and children," Trump said Thursday, visibly moved, adding: "No child of God should ever suffer such a horror."
So it's official: "Leading from behind," as official U.S. foreign policy, is dead. "Leading" is back.
Read the rest of this IBD editorial
HERE
and follow a link to a related story below:
Trump's 'Punishing' Strike Used Tons Of Explosive Warheads
If you like what you see, please "Like" us on Facebook either
here
or
here
. Please follow us on Twitter
here
.