Texas senator questions credibility of front-runner in Republican presidential campaign
Sen. Ted Cruz made a visit to the U.S.-Mexican border on Friday to criticize the state of border security and to make the case that he, not Donald Trump, is the best candidate to tackle illegal immigration.
Standing at a low-slung barrier, Mr. Cruz said that "my 5-year-old could climb this in about 3 seconds."
Mr. Cruz said Mr. Trump has supported "open-border
Democrats" in the past.
Mr. Cruz said Mr. Trump has supported "open-border Democrats" in the past. Opposition to illegal immigration has helped propel Mr. Trump to front-runner in the Republican presidential campaign.
The March 22 Arizona winner-take-all primary, where 58 delegates are at stake, is Mr. Cruz's best shot to blunt Mr. Trump's growing momentum. Utah also votes the same day, and Mr. Cruz is headed to Provo and Draper this weekend for a campaign swing.
[...]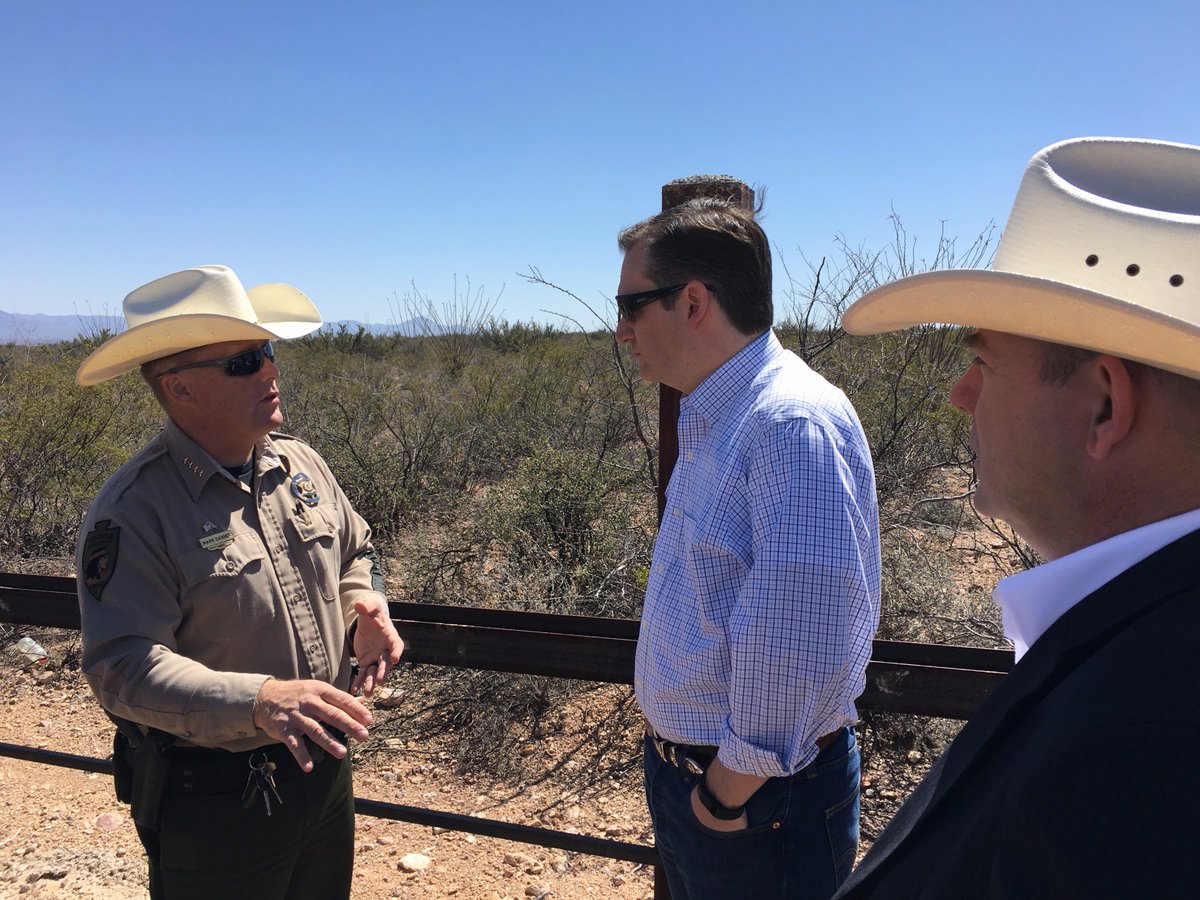 Getting a firsthand account of challenges facing law
enforcement at Arizona/Mexico border
... Mr. Cruz on Friday visited near the site where an American rancher was killed under mysterious circumstances. Authorities believe Robert Krentz was killed in 2010 by an illegal immigrant or drug traffickers. His death on his own ranch along the border has become a rallying cry for proponents of stricter border security and a crackdown on the flow of illegal immigrants into the U.S.
Mr. Cruz toured the border with former Texas Gov. Rick Perry, who has endorsed him, and Steve Ronnebeck, an Arizona man whose son was allegedly killed by an illegal immigrant last year.
Mr. Cruz has long called for additional border security, including a wall and extra border patrol agents. A standard applause line at his rallies is his vow to end so-called sanctuary cities—municipalities that tolerate illegal immigration or refuse to cooperate with federal immigration authorities. ...
Read the full story
HERE
and watch a related video below:
If you like what you see, please "Like" us on Facebook either
here
or
here
. Please follow us on Twitter
here
.