Germans are quickly realizing they can't easily integrate the new arrivals they have, let alone the millions more on the way.
Cribbing from Barack Obama, Germany's Chancellor Angela Merkel rendered "Yes we can" as wir schaffen das, literally "we can do it." In August, she flung open Germany's gates to the asylum seekers scrambling into Europe. By year's end, 1.1 million people had decided to find out whether Germany can.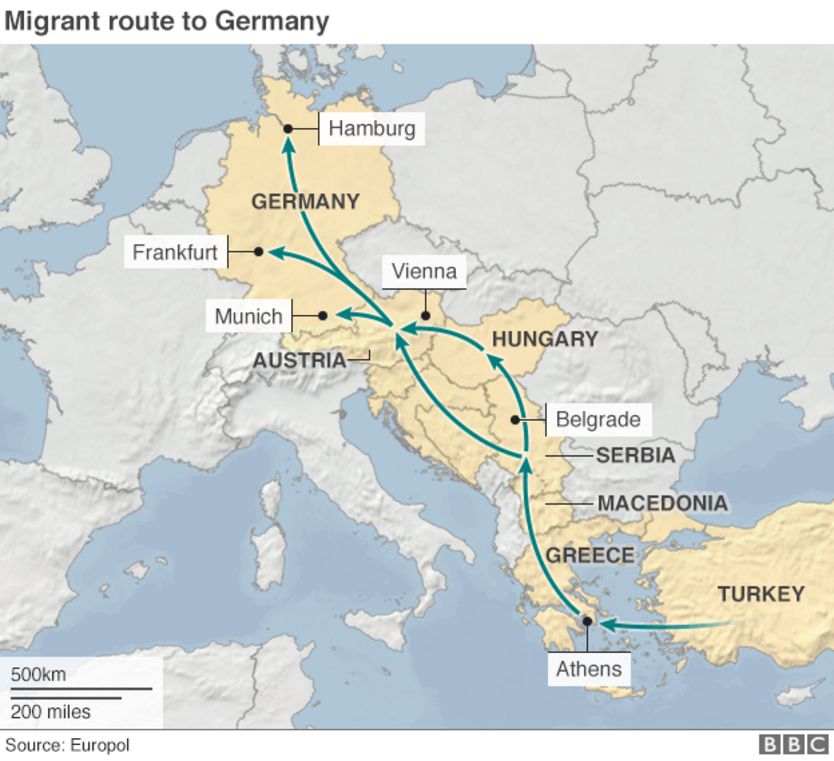 CLICK MAP to ENLARGE
In August 36,000 came. In the first two weeks of January, it was 52,000, belying hopes that nasty winter weather would give the nation a respite from goodness. Add them to the 1.1 million people who had tested Berlin's open-door policy last year: refugees fleeing war in Syria and Iraq, but also economic chancers from the Balkans, Africa and Pakistan. And now it looks like Germany can't do it after all.
Germany was destined to be Europe's Promised Land. Mindful of its Nazi past, the country makes asylum a constitutional right. "Persons persecuted on political grounds," Article 16 flatly states, "shall have the right of asylum." No ceilings.
In a country that doesn't allow for regular immigration the way the U.S. does, "asylum" is the open-sesame. Yet in real life, there are limits. And so, Germany is running up against an iron law: The immigration rate must not exceed the assimilation rate. Why did Sweden, Europe's moral superpower, finally seal its borders?
The numbers tell the tale. In 2014 there were 8.3 refugees living in Sweden per 100,000 residents. Last year, the ratio had doubled to 16.6. So no more "Schengenland," that borderless space from Lisbon to Lodz. Now it's identity checks and drastically tightened asylum rules. Denmark quickly followed.
In Germany, the ratio had quintupled over the same period, to 13.5 from 2.5. Mrs. Merkel stuck to "yes, we can" in her New Year's Eve address. Unfortunately, a thousand young Muslim men called her out on it a few hours later by terrorizing women of all ages passing through Cologne's Main Station and Cathedral Square outside.
Read the rest of the story
HERE
.
If you like what you see, please "Like" us on Facebook either
here
or
here
. Please follow us on Twitter
here
.