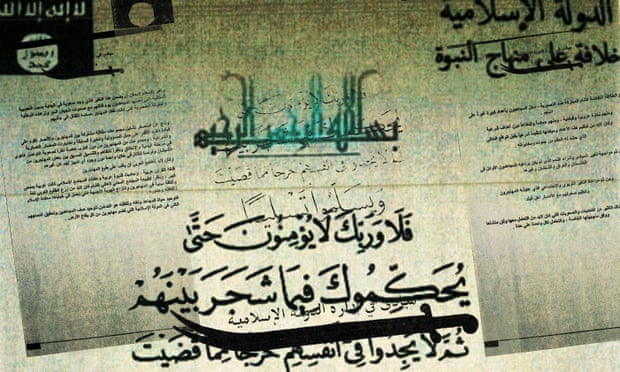 The leaked Islamic State document sets out a blueprint
for a building a state
Blueprint lays bare new contours of Islamic state, complete with civil service, regional government and Soviet levels of economic control
A leaked internal Islamic State manual shows how the terrorist group has set about building a state in Iraq and Syria complete with government departments, a treasury and an economic programme for self-sufficiency, the Guardian can reveal.
The 24-page document, obtained by the Guardian, sets out a blueprint for establishing foreign relations, a fully fledged propaganda operation, and centralised control over oil, gas and the other vital parts of the economy.
The manual, written last year and entitled Principles in the administration of the Islamic State, lays bare Isis's state-building aspirations and the ways in which it has managed to set itself apart as the richest and most destabilising jihadi group of the past 50 years.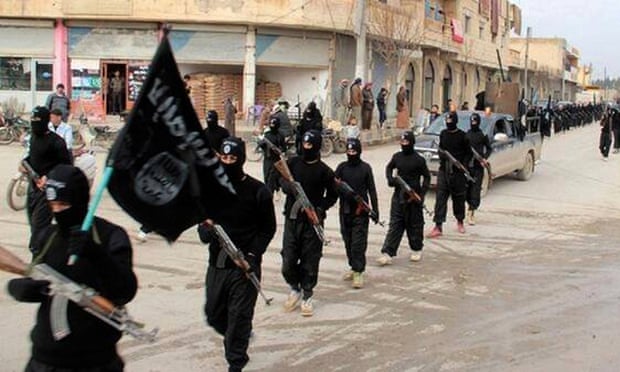 Isis fighters in Raqqa, Syria. The document details how the
group will build separate training camps for regular troops
and veteran fighters. Photograph: AP
Together with other documents obtained by the Guardian, it builds up a picture of a group that, although sworn to a founding principle of brutal violence, is equally set on more mundane matters such as health, education, commerce, communications and jobs. In short, it is building a state.
As western aircraft step up their aerial war on Isis targets in Syria, the implication is that the military task is not simply one of battlefield arithmetic. Isis is already far more than the sum of its fighters.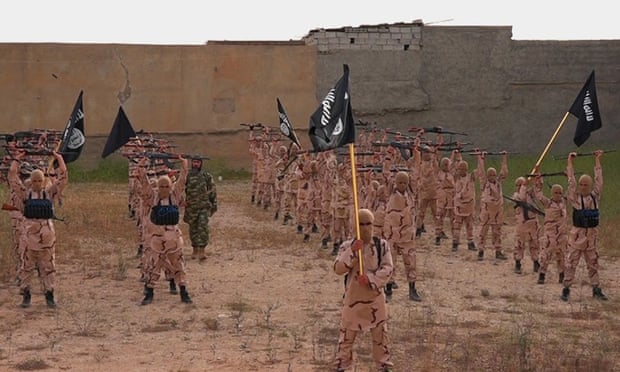 Boys known as the 'caliphate cubs' hold rifles and
Islamic State flags as they exercise at a training camp in
Tal Afar, near Mosul, northern Iraq. AP
The document – written as a foundation text to train "cadres of administrators" in the months after Isis's leader, Abu Bakr al-Baghdadi, declared a "caliphate" in Iraq and Syria on 28 June 2014 – sketches out how to organise government departments including education, natural resources, industry, foreign relations, public relations and military camps.
Read the rest of the story
HERE
.
If you like what you see, please "Like" us on Facebook either
here
or
here
. Please follow us on Twitter
here
.