Migrants arrived by boat this month near the village of
Skala on the Greek island of Lesbos. Under Europe's system
of open internal borders, the island's thinly patrolled, easily
accessible coastline, within sight of the Turkish coast, might
as well be the frontier of France or Germany or Sweden.
On a recent day here on the Greek island of Lesbos, hundreds of asylum seekers squatted on ragged hillsides or rested in a warren of tentlike structures, clothes drying on leafless trees, as they waited to be registered and sent by ferry to the European mainland.
Just a few yards away, a reception center, long promised by European Union authorities to help Greece manage the number of migrants overwhelming these islands, remained under construction.
Afghan migrants outside temporary dormitories this
month at a camp on the Greek island of Lesbos where
a "hot spot" processing center is to be set up. NYT
"We will be finished, I believe, by mid-December," Stratis Manolakellis, a 37-year-old engineer overseeing the work, said as a Greek soldier in a bulldozer systematically battered an old military mess at the site. "And then, it will be very different here."
In the wake of the Paris attacks, just how different — and how soon — has become an urgent matter not only for Greece but for all of Europe.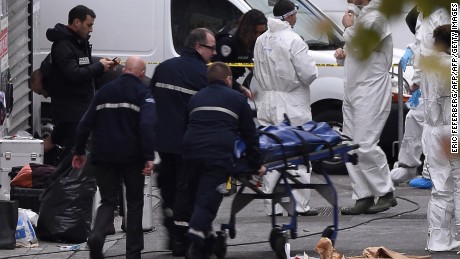 The unsettling knowledge that at least some of the Paris attackers whose Nov. 13 assaults killed 130 people entered Europe by infiltrating the throngs of migrants who have inundated Greek islands has now made security as much of a priority as humanitarian relief.
Migrants walking to a refugee camp after arriving on
Lesbos from Turkey.
Under Europe's system of open internal borders, this thinly patrolled, easily accessible coastline, within sight of the Turkish coast, might as well be the frontier of France or Germany or Sweden.
Even as countries between Greece and those destinations farther north snap in place temporary border controls, the absence of a speedy plan to secure this coast threatens to collapse the agreement on freedom of movement, known as the Schengen accord, that has been at the heart of Europe's integration.
CLICK MAP to ENLARGE
The center here, or "hot spot," as such sites have come to be called, is the first of several planned on Greek islands near Turkey — on Chios, Samos, Kos and Leros, where it is believed that at least one of the Paris attackers first entered Europe.
Read the rest of the story
HERE
.
If you like what you see, please "Like" us on Facebook either
here
or
here
. Please follow us on Twitter
here
.