Croatian riot police officers confront migrants at a refugee
camp in September. Hungary has now sealed off its border
with Croatia, blocking anyone without valid documentation
from entering the country. Photo: David Ramos/Getty Images
Government prohibits anyone without a valid visa from entering via Croatia, in an attempt to stem the flow of migrants from war-torn regions
Hungary decided to prohibit anyone without a valid visa or travel documents from crossing its border from Croatia, a move designed to stem the flow of migrants trying to reach Europe's affluent north.
Prisoners of the Hungarian 'Csillag' (Star) jail's technical
unit are seen building the iron fence along the Croatian
border in September. Getty Images
The Hungarian government's latest measure will close a corridor across Serbia, Croatia and Hungary, which has been used by thousands of migrants on their way to Austria and Germany.
Hungary earlier extended the razor-wire fence along its border with Serbia to also include Croatia, to prevent people from entering the country outside designated crossings.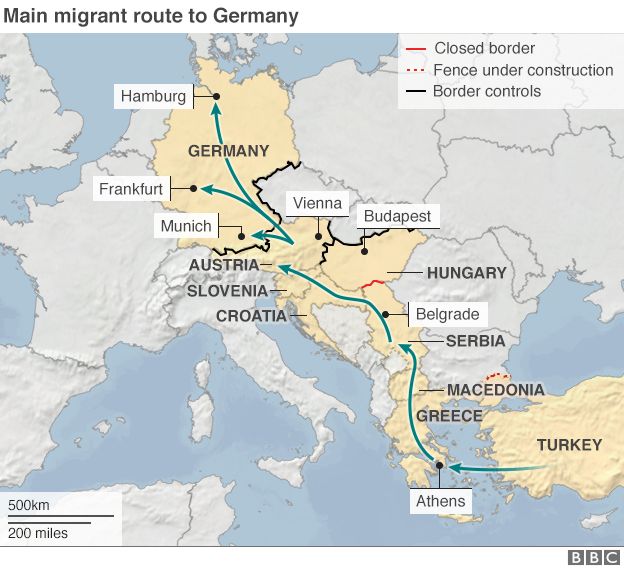 CLICK MAP to ENLARGE
Hungary will still have two official entry points along its Croatian border, according to Foreign Minister Peter Szijjarto. However, hardly any migrants will legally be able to gain entry to the country, following Hungary's decision to tighten its immigration laws earlier this year.
Under Hungary's tougher legislation, announced in September, anyone caught climbing or damaging the border fence will receive up to three years in prison.
Until now, the Croatian government has been taking migrants to the Hungarian border, from where the Hungarian government conveys them on buses and trains to Hungary's border with Austria. Migrants taking this route number between 5,000 and 8,000 a day, compared with fewer than 50 a day crossing Hungary's border with Serbia, which the country closed off in September.
Mr. Szijjarto said Friday that his country defends the European Union through its actions, though he believes Greece, which is the point of entry into the EU for thousands of migrants, should take more responsibility for controlling their arrival.
Read the rest of the story
HERE
.
If you like what you see, please "Like" us on Facebook either
here
or
here
. Please follow us on Twitter
here
.