SUPPORTERS OF Donald Trump relish the prospect of a president who knows how to "get things done," and won't bore them with details or principles. They like hearing Trump tout the stop-at-nothing aggressiveness of his business dealings, as in this description, in a CNN interview, of how he acquired the Doral golf resort in Miami:
"I didn't sit down and say 'let's do a 14-point plan.' I went in and got it. I took it away from so many people."
Trump boasted of his prowess at a rally in Michigan on Aug. 11. "You have to be able to do certain things" if you want to be successful, he crowed. I "beat the hell out of people.... I know how to get things."
Republican voters might wish to ponder what Trump doesn't say — that the people he has been willing to "beat the hell out of" in order to get what he craves include small property owners and mom-and-pop businesses. And that one of his tactics for going after other people's land is to get the government to do it through eminent domain. Trump has sought to build some of his gaudiest developments on the modest holdings of private citizens who didn't want to relinquish their property.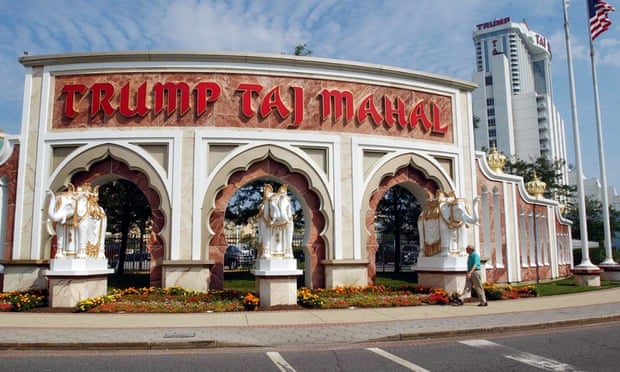 Trump has stood to benefit from the controversial use
of eminent domain numerous in the past.
Photograph: BRIAN BRANCH PRICE/AP
The Cato Institute's David Boaz recently recalled the story of Vera Coking, an elderly widow who had lived in Atlantic City for more than three decades. Coking owned a three-story boarding house near the ocean, in which she had raised her kids and where she looked forward to spending her golden years.
Vera Coking's property is on the left
But with the arrival of legalized gambling and casinos, Coking's land drew the interest of developers. In the 1980s, she turned down a $1 million offer from one builder, who accepted her refusal and proceeded to build around the house. When that project ran out of money, it was acquired by Trump, who was determined to get Coking's house by any means necessary.
Read the rest of the story
HERE
.